Cenit Verde Presents The SEAT Leon Verde Hybrid Electric Prototype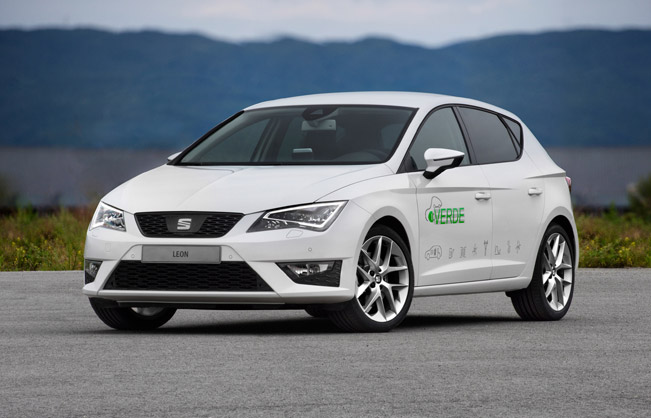 SEAT Leon Verde Hybrid Electric Prototype has just been unveiled. The environmental-friendly vehicle is based on the new Leon and is a culmination of a four-year research project called Cenit Verde, which translates as Green Zenith.
The project was headed by SEAT's Technical Centre in Martorell and in addition was supported by the Spain's Ministry of Economy and Competitiveness. Next to the presented car today, the Cenit Verde project also includes the development of an innovative smart car charging system.
The latter aims to charge the car during those times, when the electricity grid is experiencing low demand. This saves the both money and reduces the strain on the energy grid. In this sense, the SEAT Leon Verde is an embodiment of the Cenit Verde project. The vehicle is powered by a 1.4-litre TSI petrol engine with 122 hp (90 kW) which is connected to a 102 hp (75 kW) electric motor.
The electric-only driving range of this SEAT on a full charge is 31 miles. When the battery is full battery and the 40-litre petrol tank is also full, the total range is estimated around 507 miles. The combined fuel consumption figure here is 176.6 mpg and the CO2 emissions are just 36 g/km.
Furthermore, the Leon Verde is equipped with advanced technologies. An instance is the Human-Machine Interface (HMI) which has been integrated into a smartphone app. This allows the driver to connect to the car via a wireless network with his or her smartphone and in turn this enables managing of the functions such as energy consumption, battery status, recharge management and estimated CO2 savings in electric mode.
What is more, the Driving Cycle Predictor analyses and memorizes the routines and driving style of the driver. This serves in terms of optimizing energy consumption and decreasing the CO2 emissions.
In the project as mentioned was also developed the ground-breaking system of tariff negotiation and smart energy management. It effectively allows the car to 'interact' with the electricity grid and this reduces the pressure on the grid and saves driver's money.
The system operates by detecting when the overall energy consumption is low on the grid and points to charging during these times. In addition, if the car is left plugged into a power source between 7 pm and 7 am, the same system will only charge the car at times when it detects the overall demand has dropped, using a recharge manager.
The Leon Verde is charged via Lear 20 kW on-board charger, which allows two-way connection to the grid.
SEAT Leon Verde prototype is only in a research and development form. Unfortunately, there are no current plans to put the car into series production.
Source: SEAT