Chris Ingram's Peugeot 208 R2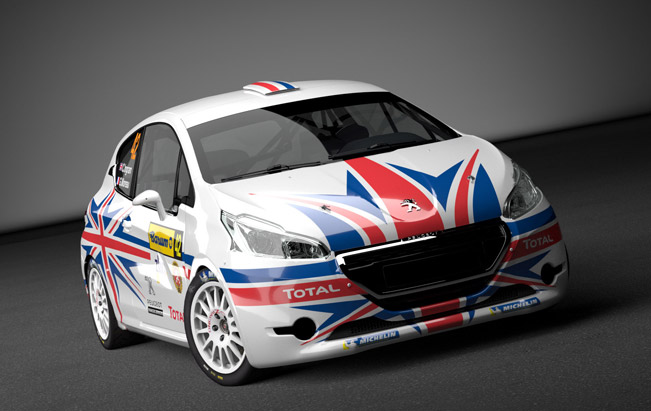 Chris Ingram's Peugeot 208 R2 carries a very distinctive appearance. Distinctive Union flag livery adorns the car, which is Peugeot UK's 208 rally entry. Chris Ingram and his 208 embarked on the European Rally Championship round in Barum, in the Czech Republic this weekend. The 20-year-old is fulfilling his dream of a career in top-flight rallying and his progress thus far has been impressive. In fact, the official Peugeot UK driver is currently ranked the number #1 under 21 year old Rally driver in the world!
Peugeot 208 R2 Rally Car is constructed to ERC competition specification 'R2' and designed to be an affordable competitive start in professional rallying. It is produced by Peugeot Sport and features styled design derived from the popular road-going 208. In addition, it also features short overhangs and a flowing transition between the bonnet and windscreen pillars.
In comparison to the 207, the 208 is 40 kg lighter and at the same time includes longer wheelbase, which improves stability with a lower centre of gravity. This also boosts car's road-holding capabilities. Despite the reduction in weight, safety is hasn't been sacrificed. 208 R2 boasts a strengthened shell with a multi-point welded roll cage.
Furthermore, this Peugeot is powered by a competition version of the 1.6-litre VTi road car engine, which is naturally-aspirated and generates 185 hp (136 kW). This modern power-unit comes equipped with variable valve timing (VVT). The company is also offering gravel and asphalt versions of the 208 R2. They are made available in kit form, including a fully-built engine.
Source: Peugeot