Cosworth Hyndai Genesis Coupe to Debut at 2012 SEMA Show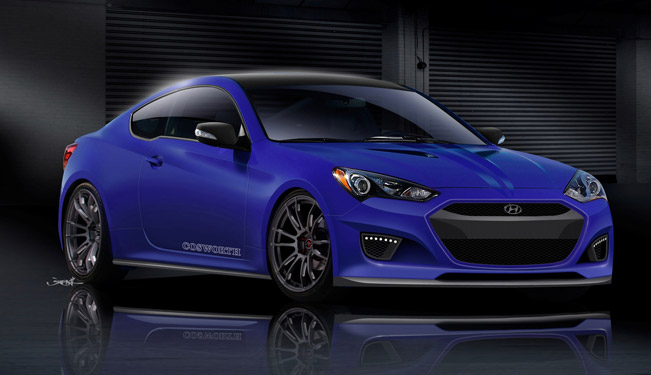 Cosworth Hyndai Genesis Coupe is painted in the eye-grabbing deep blue color. And if you wonder where you can see this beautiful car, it will be showcased with the Hyundai brand at the upcoming 2012 SEMA show.
This special edition Cosworth-tuned model takes the new Genesis Coupe 3.8-liter direct-injected engine even more powerful. It generates 389 horsepower (286 kW) at 6400 rpm, and has a tire-shredding torque of 325 lb.-ft. (440 Nm) at 5100 rpm.
The outer appearance of this Hyundai based model is astonishing! The incredible exterior design includes satin-gloss blue finish, aero front splitter, gunmetal-finish lightweight racing wheels, integrated rear spoiler, and blackout rear diffuser.
In fact, this Cosworth Genesis Racing Series Coupe demonstrates absolutely the purpose-built performance potential of the Genesis Coupe line.
In addition some thorough enhancements have been done to the interior, which now is race-like of course. Moreover, under-the-hood tuning was included, new tires, brakes and suspension as well.
The comprehensive list of Cosworth performance enhancements include:
Engine: improved thermal management, optimization of induction and exhaust systems, enhanced engine control parameters, cosworth Intake and High-flow Exhaust
Interior: Cosworth CGRS Steering Wheel, Cosworth CGRS Shift knob, Cosworth CGRS Pedals, Cosworth CGRS Shift Boot, Cosworth Two-Tone Sport Seats, Cosworth Two-Tone Interior Treatment
Exterior: Cosworth CGRS Satin/Gloss Blue, Cosworth CGRS Full front replacement bumper w/ integrated Carbon Fiber Brake Ducts, Cosworth CGRS Carbon fiber front splitter, Cosworth CGRS Carbon fiber side skirt lip, Cosworth CGRS Carbon fiber Diffuser, Cosworth CGRS Integrated Trunk Spoiler, Cosworth CGRS Edition Wheels, Cosworth CGRS logo and hood graphics
Brakes: Cosworth Big-Brake System
Suspension: Cosworth Performance Suspension
Source: Hyundai