Desert Warrior 3 - Off-road Monster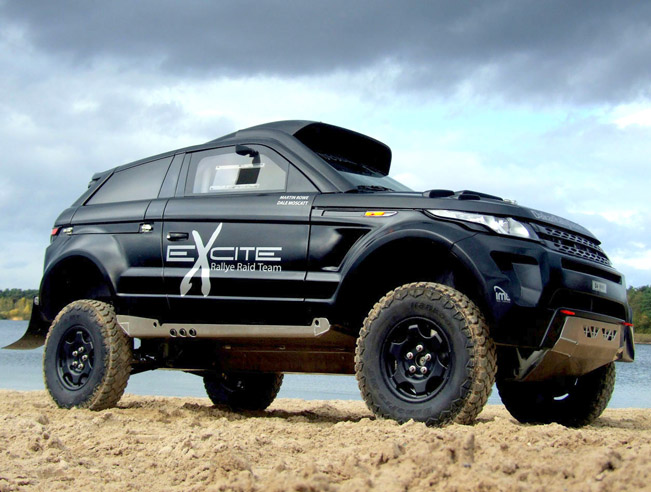 The new Desert Warrior 3 off-road race car was delivered just ahead of Bonfire Night. The beast boasts nice satin black paint and some nice upgrades improving the performance. There were certainly fireworks as the team put the new car through its paces during a 2-day shakedown in Holland over the weekend.
Desert Warrior 3 is powered by a 3.0 litre diesel engine with 275HP (202kW) and 850Nm (630 lb-ft) of torque. The engine has FIA restrictor. The power is put on the road through 6-speed sequential gearbox.
The suspension includes 8 Reiger coilvers and the wheel/tyre set includes 16"Compomotive Atacama Rally Raid wheels fitted with BF Goodrich Desert Race G series.
The fuel tanks is 260 liters and the total weight of the race car is 1900kg.
Check out the full specs below!
Technical specifications:
| | |
| --- | --- |
| Engine: | Diesel 3.0 litre   275 Hp / 850 Nm with FIA restrictor. |
| Transmission: | 6-speed sequential gearbox |
| Dampers: | 8 x Reiger coilovers. |
| Wheels: | 16" Comp.omotive Atacama Rally Raid wheels |
| Tyres: | BF Goodrich Desert Race G series. |
| Fuel Tank: | 260 Litres. |
| Length: | 3.8 m. |
| Width: | 2.0 m. |
| Height: | 1.9 m. |
| Wheel Base: | 2.8 m. |
| Weight: | 1,900 Kg. |
Special features: CCV (Corner Control Valve).  This is a Reiger patented system which detects whether you are on a straight or in a corner.  In a corner it makes the compression damping of the outer wheel stiffer so that you have less roll.  This allows you to run a softer anti-roll bar or even no anti roll bar because this system does take over a part of the anti-roll bar function.
RCV (Rebound Control Valve) This system is developed to gain more grip.  It detects if the wheels are on the ground or not.  If not, it softens the rebound damping so that the wheel drops quicker.
LCV (Lateral Control Valve) This Reiger-patented system detects, during compression, if this compression is caused by the wheel that is going up or the chassis that is going down.  If the chassis is going down, because for instance you jump into a hole, it further stiffens the compression damping.  This allows you to run a softer, more comfortable basic damper setup.
HPDP (Hydraulic Progressive Double Piston) This is a double piston system with a damper that has a speed-dependant characteristic.  On an impact with high damper speed, the double piston damping will be stiffer than with a low damper speed.  The double piston comes in earlier with a high damper speed than with a low damper speed.
Source: Land Rover