Dodge Challenger A/T Untamed Concept: Muscle Car or an Off-Roader?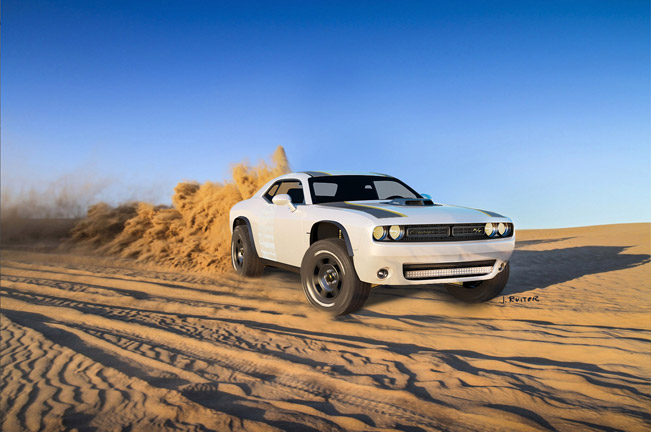 Dodge Challenger A/T Untamed Concept combines two worlds: the one of the iconic American muscle car and the one of the off-road universe. This Challenger is sleek enough for the city nightlife and rough enough for the off-road landscape. It visual appearance looks extreme and because of this it catches the attention immediately. It looks "more muscle" than ever. Joey Ruiter, who is responsible for this incredible work, pushed the performance, power and capabilities of the iconic Dodge from the street to the dirt.
He has customized almost everything - from body armor to racing seats, this ride is "ready for some serious use". Precisely, the car has received new front long travel arms, rear trailing arm with links and body armor with rock sliders. The designer has also added new fender flares, front skid plate, integrated lower light bar and of course the distinctive A/T logo badge.
But if you think that the customization stopped here, you might take into consideration the following body modifications, which include wheel well trimming, inner fender wall construction, exhaust tuck and reposition, off-road tool storage and spare tire truck mount.
As one can see the muscle car form the outside has some graphic twin striping. Furthermore, being a true off-roader with some serious amount of power under the hood (just thinks about the Hellcat engine), the car needed more safety equipment. Unfortunately this project is only in a concept form, but we are impatient to see it become a reality very soon!
Source: www.jruiter.com