EXCLUSIVE: VUHL 05 Revealed!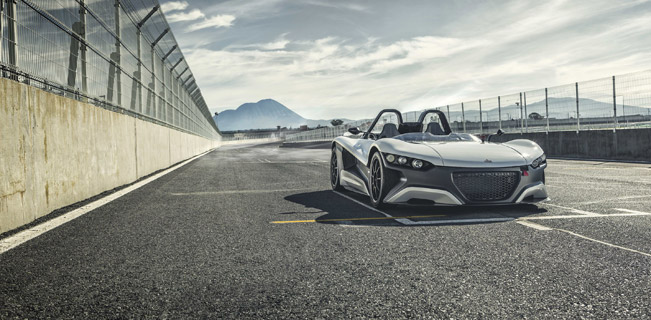 The VŪHL 05 has been finally revealed and shown to an exclusive audience at an event in Royal Automobile Club in London. After many months of secrecy and a few teasers released, the road-legal lightweight supercar has finally arrived.
The vehicle is an innovative mid-engined two-seater born of a motorsport heritage. The car is a project of Guillermo and Iker Echeverria, who were inspired by their father that was a professional driver who built and successfully raced his own cars for 30 years.
The brothers subsequently formed their own design agency, named ETXE, and started working on different projects including the VŪHL 05. In fact, they state that the 05 has been developed by enthusiasts for enthusiasts. Their goal was to create a car which is highly intuitive and at the same time offers high speeds and fun of driving. As a result, they have given it class-leading ergonomics and a contemporary silhouette of striking proportions, and uncompromising build quality.
To go further into details, the 05's monocoque weighs in at a mere 78 kg, while the dry weight of the entire car is a very competitive 695 kg. The chassis of the vehicle includes a three-section bonded tub which was made of aluminium extrusions and aluminium honeycomb. The latter is an aerospace technology that gives the 05 great levels of torsional rigidity for optimum handling.
Next to the passenger cell one can see the chrome-moly steel subframe in which are to be found the engine and rear suspension. A three-stage forward crash structure and double layer sidewalls deliver a matchless level of protection for the driver and the one seating next to them.
In addition, the standard body is made of RTM reinforced plastic. However, there is an option which includes a carbon fibre body. The aero features comprise of a flat underbody, front and lateral splitters, rear diffuser and rear spoiler.
Being a true sports car, the VŪHL 05 deliver great amount of power, which comes from a 2-litre version of Ford's award-winning DOHC turbocharged EcoBoost engine. The exact output of the unit is 285 hp (210 kW) and it can generate 420 Nm (310 lb-ft) of torque. This results in 0 to 100 km/h acceleration for 3.7 seconds and a top speed of 245 km/h.
The power of the engine is transmitted onto the wheels via six-speed manual gearbox. Steering is by a high ratio rack and pinion system. On the other hand, the suspension is by unequal length double wishbones front and rear. Braking is by four-pot alloy callipers all-round, operating on 310 mm ventilated cross-drilled discs at the front and 280mm units at the rear.
Furthermore, the VŪHL 05 runs on OZ alloy wheels matched with Michelin tyres. The sizes of the latter are 205/45 x 17 for the front and 235/45 x 18 for the rear.
The interior of the vehicle is also made exquisite and it is very captivating. It includes carbon bucket seats, 330mm quick release water-resistant suede-covered steering wheel, electronic data acquisition dash, integral HD camera, and water-resistant Dinamica suede trim.
The pricing of the VŪHL 05 will begin at US$83 930 (£55 000).
VŪHL 05 Dimensions
| | |
| --- | --- |
| Width | 1876mm |
| Length | 3718mm |
| Height | 1120mm |
| Wheelbase | 2300mm |
| Ground clearance | 110mm |
| Dry weight | 695kg |
| Kerb weight | 725kg |
| Power to weight ratio | 400bhp/tonne |
| Weight distribution | 37/63 (front/rear) |
Source: VŪHL