2014 Fiat 500 1957 Edition Goes On Sale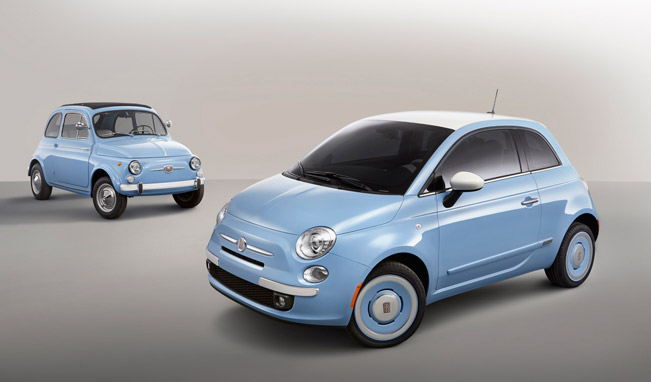 2014 Fiat 500 1957 Edition was unveiled in November last year and now the model is ready to go on sale around the United States. The car was designed and manufactured in order to celebrate the iconic 1957 Nuova 500 Cinquecento. It combines therefore the emblematic Italian design and vintage styling with modern technology.
The car is equipped with a sptort-tuned suspension for improved handling, and also sports 16" forged aluminum wheels with a retro body color design, throwback "FIAT" badging and a "Marrone" brown and "Avorio" ivory leather interior.
The model is to be offered in three classic exterior colors: "Bianco" white, "Verde Chiaro" light green and "Celeste" light blue. Another tone featured in the exterior design and contributing towards two-tone look is the "Bianco" painted roof and mirror caps, when the car is covered with the last two exterior paint schemes. This Fiat is based on the 2014 Fiat 500 Lounge.
Inside, the 1957 Edition's vintage look is achieved by the utilization of an "Avorio" ivory interior environment contrasted by premium "Marrone" brown leather seats. "Avorio" accent stitching can be found on the seatbacks and seat cushions.
"Grigio" grey door panels deliver the pwerfect contrast inside and also include "Avorio" inner panel, while "Marrone" door armrests and shift boot are decided in the same color as the leather seats.
"Avorio" is also the color for the leather-wrapped steering wheel, which additionally has been hand-stitched with "Marrone" leather on the inner ring. On it can be also seen the retro "FIAT" badge.
This limited edition model is powered by the 1.4-liter MultiAir engine, mated to a five-speed manual transmission. This means that the car is also extremely fuel efficient and delivers an EPA estimated 31 miles per gallon (mpg) city and 40 mpg highway. As an option, Fiat offers to fit the engine with six-speed automatic transmission.
2014 Fiat 500 1957 Edition will be available at dealerships later this spring and will have a starting price of $20 400 USD.
Source: Fiat