2014 Fiat 500 1957 Edition Celebrates The Nuova Cinquecento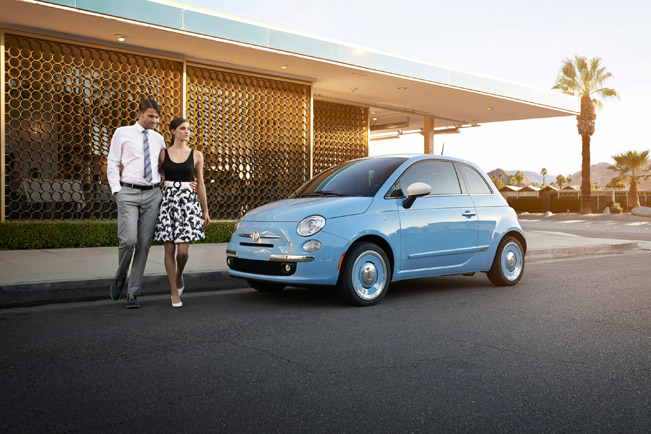 2014 Fiat 500 1957 Edition is created in order to celebrate the 57th anniversary of the original 1957 Nuova Cinquecento. The car expresses the iconic Italian design and offers engaging driving dynamics and vintage styling.
Nuova 500 was designed to revamp Fiat's product range, embarked upon by the company during World War II. It went into production after the war and provided customers with efficient and affordable mobility during Italy's period of rebuilding and economic recovery.
Since 1957, Fiat 500 Cinquecento became one of the most emblematic automobiles of all time. Fifty-seven years later, the 2014 Fiat 500 1957 Edition commemorates its roots in uniquely crafted detail.
The car is based on the 2014 Fiat 500 Lounge model, but adds iconic silhouette with a vintage look. This was made possible via the classic exterior colors - including Bianco, or for a bi-color look – the Verde Chiaro or the exclusive Celeste, combined with a signature Bianco painted roof and mirror caps.
This Limited Edition Fiat sits on 16-inch retro wheels that feature a wide chromed lip, body-color accent and large center cap with historic FIAT emblem. The vehicle also includes enhanced handling, sport-tuned suspension and all-season performance tires are standard. What rounds off the visual credentials of the model are the brand's badges on the front fascia and rear liftgate.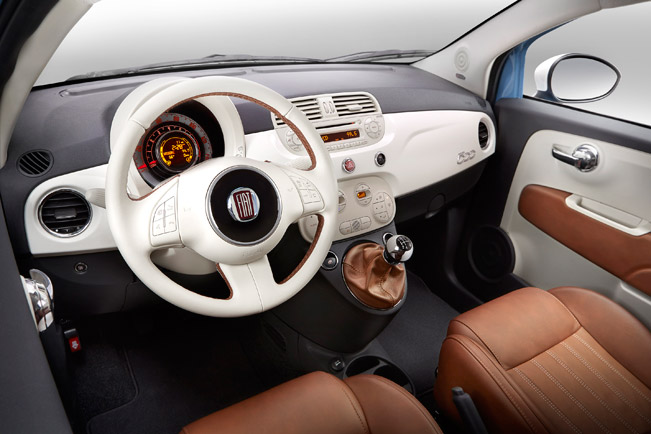 The interior is also inspired by the historic model and its vintage look features an Avorio interior environment contrasted by premium Marrone leather seats. Avorio accent stitching vertically crosses the seatbacks and seat cushions.
To make the contrast even bigger, there are added also a Grigio door panels that include unique Avorio inner panel, while Marrone door armrests and shift boot with manual transmission are color-keyed to the leather seats. The steering-wheel is wrapped in Avorio leather and it is hand-stitched with Marrone leather on the inner ring. It also features a retro FIAT badge.
The theme continues in the uniquely styled key fob with Marrone casing and Avorio-painted "1957" graphic. For the fun-of-driving and ambience of the cabin provide the six-speaker and 276-watt FIAT premium audio system with SiriusXM Radio.
Under the hood of Fiat 500 1957 Edition is hidden the 1.4-liter MultiAir engine which is coupled with a C514 five-speed manual transmission. Both deliver an EPA estimated 31 mpg/city and 40 mpg/highway.
The engaging dynamics include a driver-selectable Sport mode on the instrument panel. In additionally, Fiat offers an optional six-speed automatic transmission with driver-selectable gear changes. In Sport mode, the automatic transmission offers a more aggressive shift schedule and throttle map for improved engine responsiveness.
2014 Fiat 500 1957 Edition will be available at dealerships in the spring of next year. The pricing will be announced closer to market launch.
Source: Fiat