2013 Fiat 500 Turbo – Pricing Announced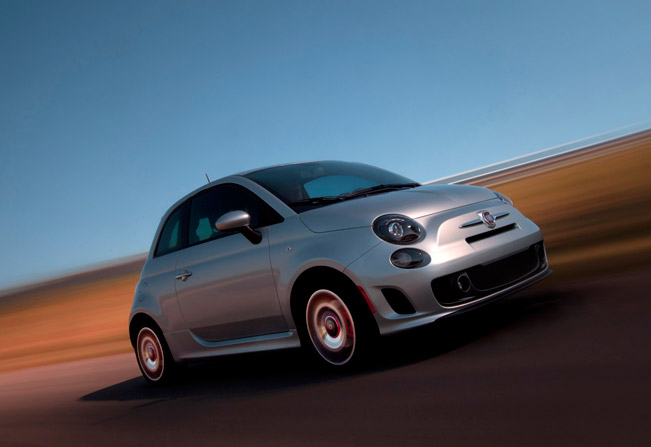 2013 Fiat 500 Turbo has just been introduced touting a 135 horsepower (100 kW) and 203 Nm (150 lb.-ft.) of torque from its 1.4-liter MultiAir® Turbo engine, sport-tuned suspension, track-proven brakes, dynamic exterior design and sport-styled interior.
In other words, the Fiat 500 Turbo balances and blends the best Italian flavors. Developed for high-output applications, the Fiat 500 Turbo's engine is mated to the C510 five-speed manual transmission with a 3.35 final-drive gear ratio for quick acceleration and faster top speed. The fuel economy of the Fiat is also impressive. It reaches up to 34 mpg highway.
But not only are the internal attributes of the car aggressive. The new Fiat 500 now has more aggressive appearance as well, thanks to its new front fascia, which is pushed 2.7 inches forward of the Cinquecento's signature "whiskers and logo" face.
On the other hand the larger openings below deliver greater engine cooling, while twin "nostrils" are precisely positioned on both sides of the front fascia to maximize airflow in and out of the two intercoolers. The front is rounded up by the Gloss Black headlamps and parking lamp bezels.
In addition, in order to create more vertical bodyside profile, the new Fiat includes bolder side skirts. Behind the unique 16-inch aluminum wheels with Nero painted pockets, is a high-performance brake system with semi-metallic brake linings at all four corners, larger 11.1-inch ventilated front rotors for greater stopping power (up from 10.1-inch) and brake calipers lacquered in Rosso (red) paint.
At the rear, one can see taillamps with Gloss Black bezels. The two-piece rear fascia below emphasizes the road-holding stance of the 500 Turbo with a black-accented rear diffuser and a new sport-tuned exhaust.
Exterior colors for the 2013 Fiat 500 Turbo include: Argento (silver), Bianco (white), Grigio (gray), Nero (black), Rame (copper), Rosso (red) and Verde Azzurro (green & blue.)
The interior of the new model includes sport-styled seating, sport-designed leather-wrapped shift knob and steering wheel accented with Argento (silver) stitching, and a Grigio/Nero (gray/black) seating and interior environment. As an option, one can choose between heated leather seating in Nero/Nero (black/black) or vivid Rosso/Nero (red/black).
2013 Fiat 500 Turbo will be available at dealerships this autumn with a starting price of $19 500.
Source: Fiat