2013 Fiat Viaggio makes first appearance in China
2013 Fiat Viaggio is going to make its world premiere at the Beijing International Auto Show in less than two weeks.
The brand has just released the firs official teaser images of the new vehicle, which as we can sense is going to be a absolutely new model.
The Viaggio is in fact the first Fiat-Chrysler twin project. Its aim is bring to life an all-new world class vehicle in China's compact sedan segment.
The new Fiat Viaggio sedan delivers high levels of refinement and craftsmanship. In addition to this it offers one-of-a-kind blend of power, fuel efficiency, sophistication, technology and vehicle dynamics.
And all this comes in the beautiful exterior design of the Italian style.
Furthermore, 2013 Viaggio is four-door, five- passenger and is based on the compact US wide architecture. The same architecture for instance is the base of the already popular 2013 Dodge Dart.

In its turn, this particular architecture is derived from the Compact architecture initially developed for best-selling Alfa Romeo Giulietta.
In particular, the Fiat is 4,679mm in length, 1,850mm in overall width and with a 2,708mm wheelbase.
2013 Fiat Viaggio will be the only car in its segment to deliver sophisticated turbo-charged engines.
For example, the 1.4L Tjet enjine in both 120 hp (88 kW) and 150 hp (110 kW) outputs is matched to either a 5-speed manual transmission or the latest Dual Dry Clutch Transmission developed by Fiat Powertrain.
The exterior of the vehicle has a timeless style and clean-surfaces. It is expressive and exciting and blends fluid and curvaceous forms in perfect proportions.
Of course, it carries the contemporary Fiat "face" which connects it to the unmistakable brand style.
Furthermore, the rear tail lamps with refined LED lights give the Viaggio the stance of superior quality.
The first examples of the 2013 Fiat Viaggio will be produced starting in July and will go on sale in the third quarter of this year.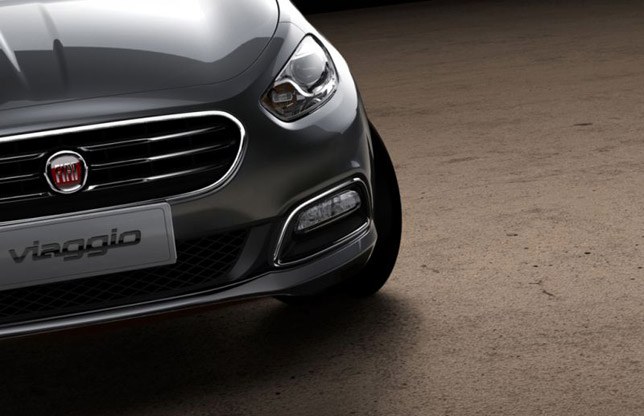 Source: Fiat