Fiat 500 Couture Special Editions Exhibited in Paris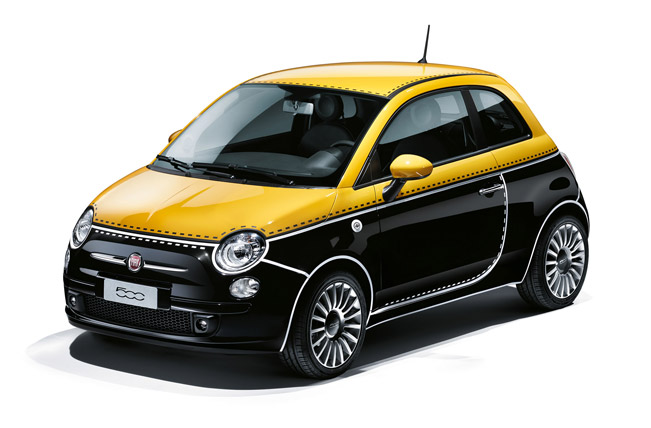 Paris saw a really nice debut this year in the face of the Italian style icon – the Fiat 500 Couture. Under this name hide three distinctive vehicles: 500 Ron Arad Edition with a specific design like a garment "sewn" onto the car; the 500 Comics and 500 Camouflage showcars. The trio is inspired by the world of fashion and created to add to the pop and trendy nature in the 500′s DNA. The premiere took place during the Paris Fashion Week at the MotorVillage Rond-Point des Champs-Elysées.
500 Ron Arad Edition is a result of the joint work of the Italian brand and the internationally celebrated designer Ron Arad. To be more precise, the silhouette of the historic 1957 Fiat 500, or more famous as 'Cinquino', is drawn on the sides of the car using the Italian craftsmanship.
The car is equipped with great features such as a glass sunroof, chrome-plated accents, black interiors, superb black Poltrona Frau leather seats with ivory trim, 7″ TFT instrument panel, Blue&Me, leather steering wheel with radio controls, automatic climate control system, fog lights, 16 inch alloy rims, black metallic paintwork and white mirror caps with the silhouette of the legendary 500 drawn on the side panels.
The next two models, 500 Comics and 500 Camouflage showcars pay homage to the pop nature of the iconic Fiat 500. The first one has a two-tone livery, pastel ochre yellow and metallic black, embellished by craftsmanship resulting in "stitching" that traces out the stylish lines. The second model is inspired by 500′s DNA and features grey/green camouflage pattern, highlighted by the fluorescent yellow mirror covers.
Only 2015 Fiat 500 Ron Arad will eventually go on sale in Europe, starting from November this year. The car will be delivered to the new owner's home together with an 1:18 scale model.
Source: Fiat