Olsbergs MSE Enhances Ford Fiesta ST Supercar For 2014 GRC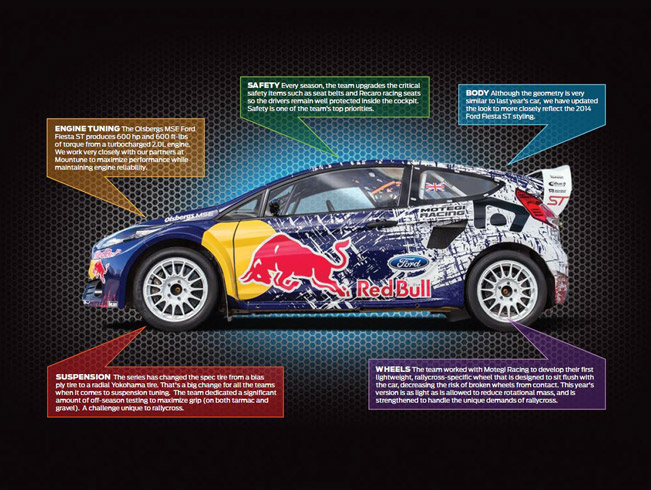 Olsbergs MSE Ford Fiesta ST Supercar is under preparation for the Red Bull Global Rallycross Championship (GRC). The rallycross has existed for three years now, during which Ford Racing has set a high standard, claiming three driver and three manufacturer championships. Olsbergs MSE (OMSE) has involved in the evolution of the Fiesta ST in order to make sure that the car will be a winner this year. The combination of enhancements in the Fiesta ST Supercar and changes in series regulations created an opportunity for improvement.
To be more precise the enhancements included has been done on the suspension, engine, wheels and body. Ford Fiesta ST Supercar's suspension was an area of significant development with the series changing the spec tire from a bias ply tire to a radial Yokohama tire.
The OMSE retuned Fiesta produces up to 600 hp (441 kW) and 813 Nm (600 ft-lbs) of torque from its turbocharged 2.0L engine. For the wheels, OMSE have partnered with Motegi Racing to develop a lightweight, rallycross-specific wheel. The wheels are strengthened and reduce rotational mass. Ford Racing OMSE factory Supercars will also get updated looks.
Olsbergs MSE Ford Fiesta ST Supercar will make its Red Bull GRC debut on 18th May in Barbados. It will be driven by Patrik Sandell, Joni Wiman, Brian Deegan, and Nelson Piquet Jr.
Source: Ford