G-Power G1 V8 Hurricane RS based on BMW 1-Series ///M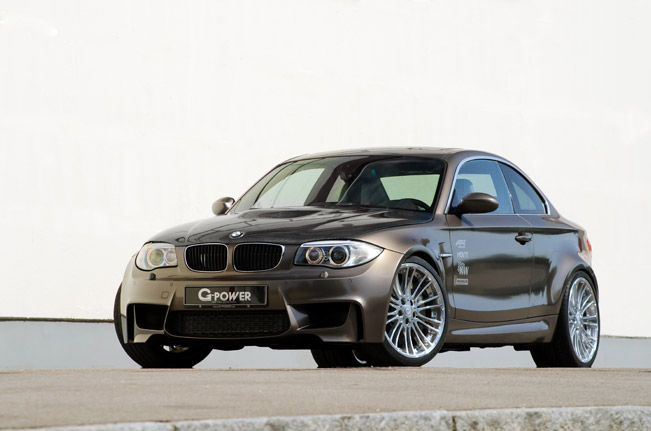 G-Power has announced their latest project based on BMW 1-Seris ///M Coupe. The name of the project is G1 V8 Hurricane RS and this is the world's fastest 1-Series. The car comes with both styling and performance modifications.
The aerodynamics package includes a new carbon fiber hood and trunk lid and a set of enormous 20" G-Power alloy wheels fitted with performance tires. Other goodies include a sports stainless steel exhaust system, a set of carbon ceramic brakes and a coilover suspension for maximum traction and handling.
As we know, G-Power are keen on HP and the twin-turbo 3.0-liter six-cylinder engine from 1-Series ///M has been replaced with a mighty supercharged 4.0 liter V8 from G-Power M3. It is boosted to 600HP (441 kW) and 580Nm (428 lb-ft) of torque. The engine is mated to a dual-clutch gearbox. 0-100 km/h in 4.4 seconds, 0-200 km/h in 12.7 seconds and a top speed of whopping 330 km/h (205 mph).
600 hp / 441 kW at 7,800 r / min (+ 240 hp / 176 kW)
580 Nm at 3900 r / min (+ 80 Nm)
G-POWER M3 V8 engine conversion to complete stainless steel exhaust system including
G-POWER M3 DCT gearbox conversion to
G-POWER M3 S65 Supercharger system SK II
20'' G-POWER SILVERSTONE DIAMOND
G-POWER carbon engine and trunk lid
G-POWER RS coilover GM1 CLUBSPORT
Source: G-Power