John Hennessey Test Drives Stock 2015 Mustang GT up to 150 mph [VIDEO]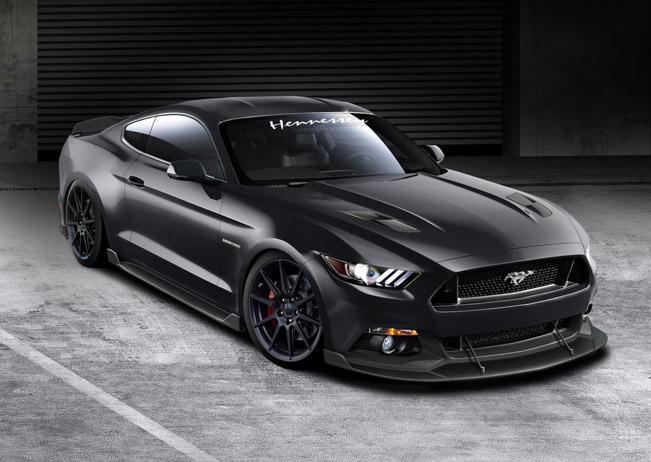 Remember the Hennessey Performance Ford Mustang GT HPE700? Well, if you do than you will be satisfied to see the video below. In it John Hennessey test drives the stock 2015 Mustang GT up to 150 mph. Stock baseline dyno testing was also performed. Hennessey's 717 horsepower supercharged 2015 Ford Mustang has firepower to battle the Corvette Z06 or the SRT Hellcat! And this makes it the most powerful Mustang currently on the market. And also the fastest!
The car with superpowers runs from 0 to 100 km/h in mere 3.6 seconds. Key to that are not only the 717 hp (527 kW), but also the torque, which is 856 Nm (632 lb-ft) at 4400 rpm. Helping the Coyote V8 breathe more deeply is a high-flow throttle body and stainless-steel exhaust system.
Upgraded injectors and fuel pumpfeed the V8, but this happens under the command of the proprietary engine management calibration. More personalization and performance can be achieved with the optional CarbonAero carbon-fiber bodywork. The pack includes front splitter, side sills, rear diffuser and rear lip spoiler.
Available are also the 20-inch Hennessey H10 wheels shod with Michelin Pilot Super Sport 2 tires, behind the spokes of which we see Brembo brake package with 15.1-in. front rotors. With this package Mustang gets better downforce, corneing and braking.
Great news is also that Hennessey announced a 2.3-liter EcoBoost-powered Mustang, which is under development. Note that only 500 units of the HPE700 will be produced. The pricing starts at $59,500 USD.
Hennessey Performance Ford Mustang GT HPE700 Details:
Power • 717 bhp @ 6,600 rpm • 632 lb-ft torque @ 4,400 rpm
Performance • 0-60 mph: 3.6 sec. • ¼ mile: 11.2 @ 131 mph
HPE700 Supercharged 5.0L V8 Engine Upgrade • 2.9 Liter Supercharger System • HPE Air Induction System • Upgraded Fuel Injectors • Upgraded Fuel Pump • All Necessary Gaskets & Fluids • Professional Installation • HPE Engine Management Calibration • Dyno Tuning & Road Testing • Hennessey Exterior Badging • HPE700 Exterior Badging • Supercharged Exterior Badging • Hennessey Premium Floormats • Serial-Numbered Dash & Engine Plaques • 3 Year / 36,000 Mile Limited Warranty
CarbonAero • CarbonAero Front Splitter • CarbonAero Side Sills • CarbonAero Rear Lip Spoiler
Additional Upgrades • Hennessey H10 Lightweight 20-inch wheels (Mounted on factory tires) • Stainless Steel Exhaust System
Video Source: YouTube
Source: Hennessey Performance