Honda Previews Next-Gen Civic Hatchback with Geneva-Bound Prototype

Honda Civic Hatchback Prototype is being exhibited at the Geneva Motor Show, which started today. The car previews the next-generation Civic hatchback that heralds a significant step-change from the predecessors of Honda's core model. If the design stays the same in the production model we will be in awe, for it is provocative design and rewarding driving dynamics. But we will have to wait until 2017, when the next-gen Civic Hatch will be introduced.
The Design
We all love Honda Civic Hatchback for its distinctive and sporty design. From what we see from the prototype, it takes it to the next level, making it sportier than ever. Another important detail, which contributes for the aforementioned fact is that the new production Civic will be 30 mm wider, 20 mm lower and 130 mm longer than the current generation. Bigger body usually means larger wheels, and this principle has been kept here. The wider wheels and tires speak of more aggressive stance, while the long wheelbase, short overhangs and sleek cabin area aid the dynamic exterior design.
SEE ALSO: Honda Civic Hatchback Prototype to Stun the Geneva Motor Show with Exclusive Premiere
The front of the prototype is adorned by a short overhang with large air intakes. And this is actually an interpretation of brand's family face. In addition, the design of the LED headlights and DRLs flows from beneath the bonnet into the wheel arches, accentuating the profile design and culminating in the distinctive C-shaped LED rear lights. At the back we also see a bumper, which incorporates angular creases and vents.
New Engines Equals More Power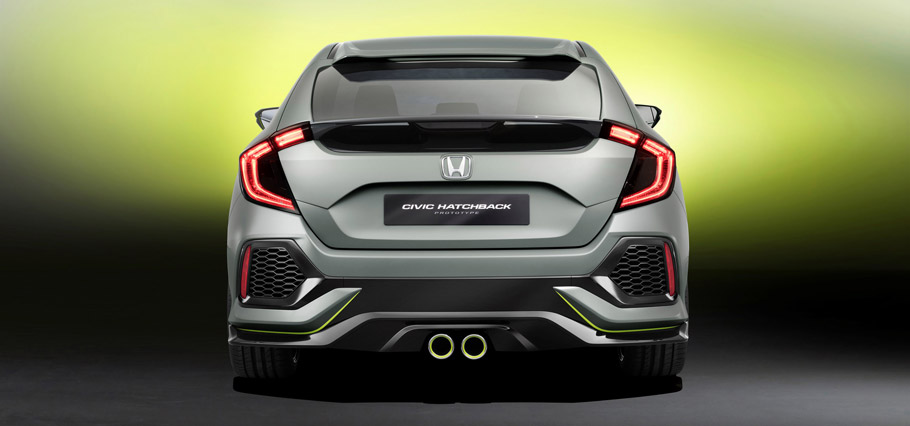 There are new engines that will be featured in the 10th generation Civic Hatchback. Precisely, it will be offered with a choice of three powertrain options: 1.0-litre and 1.5-litre VTEC TURBO petrol engines (new! new! new!), and the substantially updated 1.6-litre i-DTEC diesel unit. Honda promises that they will all offer better dynamic performance, exceptional output and a fuel economy to envy. No specifics about output and torque were later disclosed.
Production Run in 2017
The good news is that the 10th generation Civic hatchback to be built in Europe and even the better one is that it will be exported globally! Honda's production facility is based in the UK, which will be granted an investment of €270m in new production technologies and processes to prepare for the new model. From there the next-gen Civic Hatch will be exported worldwide, including the United States.
Honda Civic Hatchback Prototype is also going to make its North American debut in New York on March 22, ahead of the New York International Auto Show.
Source: Honda