Honda CR-Z Mugen RR Concept
Honda CR-Z Mugen RR Concept will demonstrate the tuner's capabilities in terms of function, style, performance and agility. The vehicle was produced by M-TEC in Japan for show purposes only.
The car was unveiled at the Goodwood Festival of Speed, but now the manufacturer has released more information about it. CR-Z Mugen RR Concept boasts Valencia Orange Pearl exterior paint work and an aggressive M-TEC body kit including a carbon fiber hood, doors and tailgate. There are also a dual sport exhaust system, a sport-tuned suspension and 18" alloy wheels. The brake system includes a 4-piston calipers.
It is powered by a supercharged 1.5-liter engine and an IMA hybrid system. The combined powerl is 200PS (147 kW) and 245Nm(181 lb-ft) of torque. 0 to 60 mph in 6.6 seconds.
The interior has colour-coded leather and Alcantara seats and a race-developed information screen. It has the ability to record chassis and engine data as well as housing a Satellite navigation and audio system. This high tech kit will monitor the car over two laps to "learn" a circuit and then record lap data and vehicle tracking using GPS.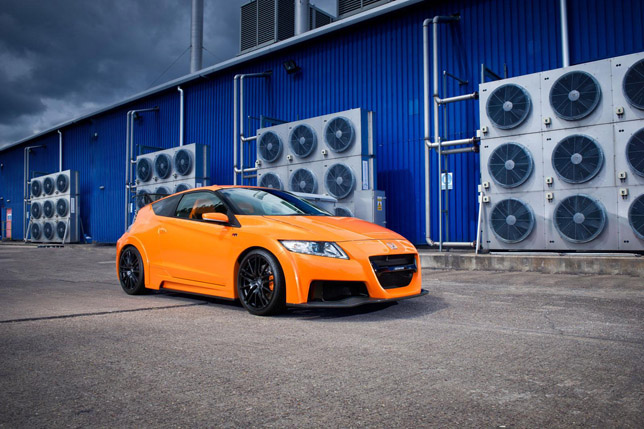 Source: Honda