Hyundai

i20

(

2024

)
Hyundai i20
Hyundai Motor unveils the new i20. The car has a refreshed, stylish design and offers a comprehensive safety package and best-in-class connectivity features. It will hit the roads soon.
Elegant and sporty design
The new i20 has a modern and stylish exterior that is sure to turn heads. The front bumper, radiator grille, and rear bumper have been redesigned, and new taillights and 16- and 17-inch wheels have been added to enhance the overall look. The model has received praise for its dynamic design, which combines proportion, architecture, styling, and technology on both the interior and exterior.
Thanks to its low roof profile and long wheelbase, the i20 retains its sporty stance while improving aerodynamics and fuel efficiency. The vehicle's dynamic light signature, highlighted by Z-shaped LED rear lamps, adds to its bold look. The interior is spacious, with plenty of room for passengers and a generous 352 litres of boot space.
The i20 is available in eight exterior colours, including three new colours: Lucid Lime Metallic, Lumen Grey Pearl, and Meta Blue Pearl. The model's interior features a vibrant new Lucid Lime colour package, which includes lime-coloured stitching and a sporty pattern on the seats.
Overall, the new i20 is a stylish and dynamic addition to Hyundai's line-up, with plenty of features that make it stand out from the crowd.
Seamless technology
The new i20 offers the latest connectivity features, making it an even more convenient vehicle for passengers. It has a standard 4.2-inch LCD cluster, USB type-C, second-generation eCall using 4G network, and Over-the-Air (OTA) map updates. Popular features from the previous model, like the optional 10.25-inch cluster and display screen, Apple CarPlay and Android Auto, wireless device charger, and Bluelink® telematics, are also available.
The new model now includes more Hyundai Smart Sense safety features as standard. Forward Collision-Avoidance Assist (FCA) for 'City', 'Interurban', and 'Pedestrian' now includes 'Cyclist', helping detect and avoid potential accidents with obstacles ahead. Lane Following Assist (LFA) ensures that the vehicle stays in the current lane of travel.
Optional safety systems, such as Rear Cross-traffic Collision Assist (RCCA), Blind-spot Collision-avoidance Assist (BCA), and Navigation-based Smart Cruise Control (NSCC), are also available. RCCA applies the brakes while backing out of a parking space if a collision with vehicles to the rear and side is detected. BCA uses visual alerts to avoid collisions with other vehicles, while NSCC uses the vehicle's navigation system to adjust speed for safer driving on curves and straights on motorways.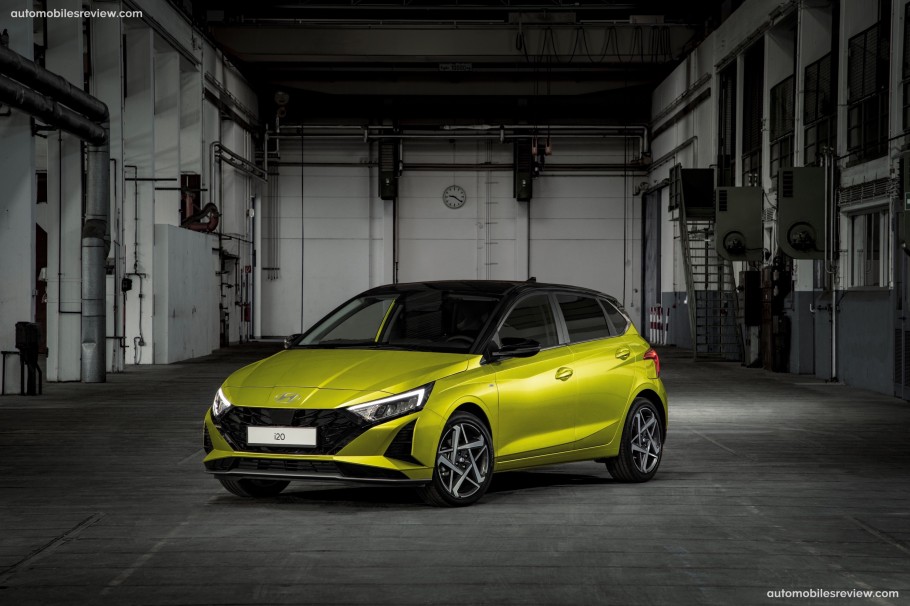 Enhanced convenience for more comfort
The new i20 is an ideal option for European drivers seeking a vehicle with a stylish and sporty design. The updated model now uses LED technology for improved in-car illumination, replacing traditional light bulbs. Passengers can also enjoy multicoloured ambient lights that can be adjusted to match their mood. Additionally, the car is equipped with a BOSE® Premium Sound System for an enhanced audio experience.
Engine options for optimised fuel consumption
The new i20 is equipped with a 1.0 T-GDi engine, which is available in 100 PS or 120 PS and is designed for optimal performance and efficiency. Drivers can choose between a seven-speed dual-clutch transmission (7DCT) or a six-speed Intelligent Manual Transmission (iMT), both of which provide a smooth and responsive driving experience. With iMT, the engine can be decoupled from the transmission to save fuel when the accelerator is released, allowing the car to enter a coasting mode.
Production of the new i20 is set to begin in the third quarter of 2023 at Hyundai's manufacturing plant in Izmit, Turkey, with additional variants to follow.
Hyundai's i-range
The i-range, consisting of i10, i20, and i30, has been a triumph for Hyundai in Europe, with the models being among the brand's most popular offerings. The i-range prioritizes quality, reliability, and practicality, making it an ideal choice for customers' daily needs. Furthermore, the range has evolved over time to include more stylish designs, advanced connectivity options, and comfortable interiors that do not compromise on accessibility.
Disclaimer: CO2 and emissions data
The new i20 is not yet available for purchase, and the CO2 emissions have not yet been certified.
The pricing and specifications for the UK market are still to be announced.