John Pangilinan Unites with Hyundai For Special Tucson Adventuremobile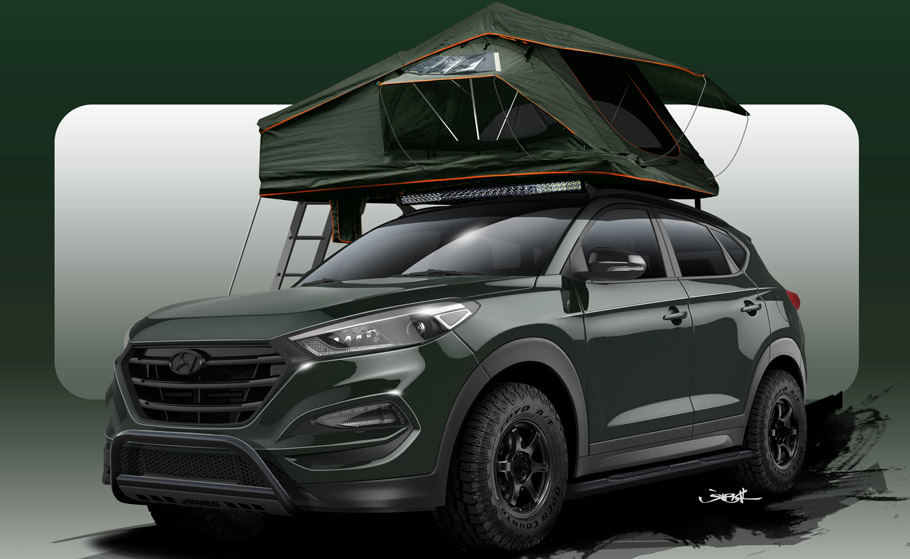 John Pangilinan Hyundai Tucson Adventuremobile is going to be revealed at the SEMA show, which starts on 3rd of November. The Southern California tuner is famous for making projects that mix the various lifestyles with the automotive. This Tucson is not different. Its project name is "Adventuremobile", thus showing that it will blends Hyundai's crossover capabilities with a passion for the outdoors.
Although, there is only one sketch released, we clearly see that the Adventuremobile is as suitable for daily use as is for lugging gear up into the mountains for the weekend out of town. The Treeline Tamarack roof-top tent will offer room for two, while the Goal Zero solar panels will power all accessories needed.
SEE ALSO: Rockstar Performance Garage Shows Custom Hyundai Tucson for SEMA 
Other details here include Aries bull bar and side steps, Rigid Industries LED lights, and the exclusive BASF army green paint scheme made by Strasse Sport. In addition, the 1.5-in. suspension lift delivers greater ground clearance, which is perfect for the new Toyo Open Country A/T II tires with RAYS Gram Lights 57DR wheels. They also provide additional grip for the off-road trips.
The engine has a power output that has been boosted via AEM intake and charge pipe kit, as well as the new exhaust system. In other words John Pangilinan's Tucson Adventuremobile is the perfect choice for those who are always excited about the outdoors but at the same time need an ideal car for daily commuting.
John Pangilinan Hyundai Tucson Adventuremobile Details:
POWERTRAIN MODIFICATIONS
CHASSIS/SUSPENSION MODIFICATIONS
EXTERIOR MODIFICATIONS
INTERIOR MODIFICATIONS

AEM Intake
AEM Charge Pipe Kit
Magnaflow Exhaust
Lucas Oil

Custom Suspension Lift
Wilwood Custom Fabricated Brake Kit with Matching Army Green Painted Calipers
Rays Gram Lights 57DR Wheels, Semi-Gloss Black
Toyo Tires Open CountryA/T II Tires
Project KICS Leggdura Racing Lug Nuts
Project KICS Wide Tread Spacers

BASF Army Green Paint by Strasse Sport
Aries Bull Bar and Side Steps
Thule 47-in. Aeroblade
Thule Rapid Podium Foot Pack
Thule Fit Kit
Treeline Tamarack Constellation Gen2 Roof-Tent
Goal Zero Nomad 20 Solar Panel
Rigid Industries
SR-6 LED Lights with Tucson Light Bracket
E-40 LED Light Bar
Rock Light Kit
Decals by S&A Design

Katzkin Custom Leather Upholstery
Seat Belt Planet Custom Army Green Seat Belts
Truck Vault Storage with Trekpak System
Goal Zero
Yeti 400 Solar Generator
Light-A-Life 350 Lights
Lighthouse Mini
Venture 30 Recharger
VLEDS Lighting
CTEK Battery Charger
Car Audio System Built by BP Auto Sound
Clarion
SRG1623S Components
EQS755 Equalizer
MCD360 Crossover
WF250D Shallow Subwoofers
XC1410 Full Range Amp
XC2110 Sub Am
Scosche
EFX Series Multi-Core Interconnects
EFX Speaker Wire
EFX Amp Power Kit
EFX Power and Ground Distribution Block
Hyperflex Accumat Sound Deadening Material
MagicMount System
Scosche Optimized for Outdoors
BOOMBOTTLE+
reVOLT Dual USB Car Charger
StrikeLINE Rugged LED Lightning and Micro USB Cable
Source: Hyundai