Rockstar Performance Garage Shows Custom Hyundai Tucson for SEMA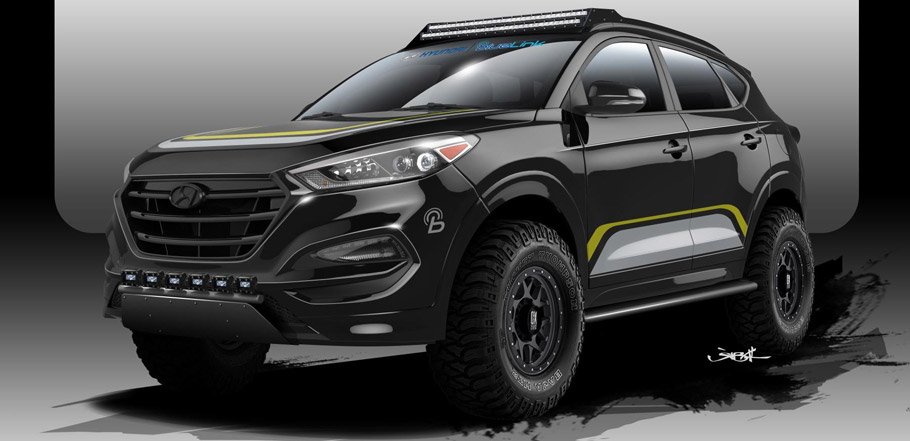 Rockstar Performance Garage or RPG in short is preparing a special Hyundai Tucson edition for the SEMA Show in November. The specialists are known for their know-how in the off-road field and this is the first time they are collaborating with Hyundai for a SEMA-related vehicle. The anticipation is strong and as we can see from the teaser sketch, the popular custom CUV promises to be epic!
Exterior Reconstruction
RPG says that the most important piece of their project is the suspension. For this reason, they have made the Tucson with six inches over stock height. This allowed for the addition of the massive, 32-inch MTZ P3 tires from Mickey Thompson. What is more, there are also entirely-custom, adjustable shocks and struts system from King Shocks. And if you ask about vehicle's wheel wells, well, they have been reconstructed, thus creating space for the new setup.
SEE ALSO: Blood Type Racing Reveals First Sketch of SEMA-Built Veloster Turbo
Although there aren't any pictures or sketches of the rear, the official information released by Hyundai about this project, states that RPG also upgraded the turbo piping, added a high-flow Magnaflow exhaust and a new K&N intake and intercooler from Mishimoto.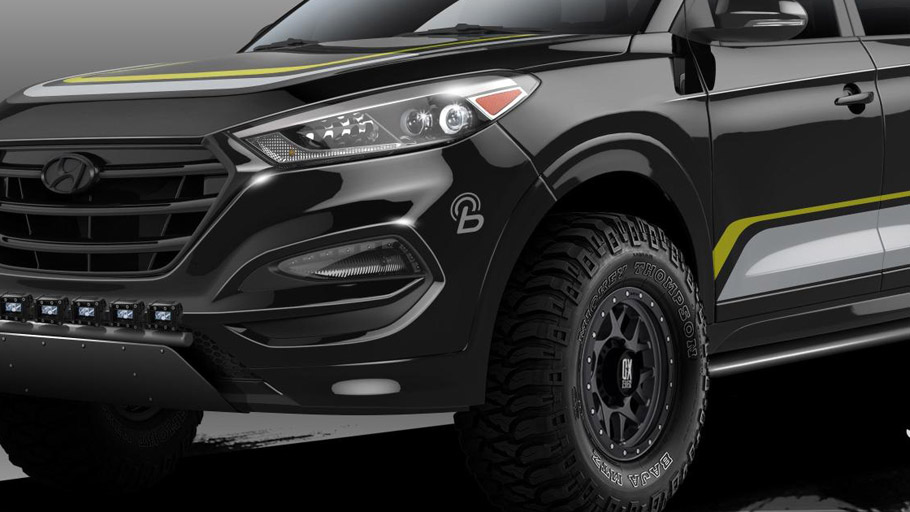 These additions also deliver performance boost to the Hyundai's 1.6-liter "Gamma" four-cylinder engine. The 6-speed DCT transmission transmits the power onto the four wheels.
In general, this RPG Tucson is finished in black and yellow livery, and also features smoked rear tail lights, a custom LED light bar setup from Bulldog LED Lighting, and custom off road bumpers.
Interior
Hyundai's next-generation Blue Link system will also be featured in this Tucson. Moreover, the interior will also add Kicker Audio sound system, high output speakers and a 10-inch subwoofer and Scosche Integrated Stereo install kits. And by the way, if the RPG Tucson is ever stolen, Blue Link can assist authorities to quickly find and immobilize it.
If you are active on Twitter or Facebook follow #HyundaiSEMA to stay updated!
Rockstar Performance Garage Hyundai Tucson in Details:
POWERTRAIN MODIFICATIONS
CHASSIS/SUSPENSION MODIFICATIONS
EXTERIOR MODIFICATIONS
 INTERIOR MODIFICATIONS

Mishimoto 2.5-in. Stainless Steel Down Pipe and Charge Pipe with Front Mount Intercooler

Rockstar Energy-Licensed/Mishimoto Billet Oil Catch Can
Mishimoto 19-Row Oil Cooler
Turbonetics Godzilla Blow Off Valve
K&N Filters Custom Air Intake
Custom Magnaflow Center Exhaust
Odyssey Dry Cell Battery
Lucas Oil Fluids
Heatshield Products Lava Wrap

King Shocks 2.5-in. Adjustable Strut Coilovers

King Shocks Rear 2.5-in. Shocks with Remote Reservoirs and Progressive Off-Road Springs
Black Ops 4x4 Body Clearancing for Larger Tires
Mickey Thompson 32-in. MTZ P3 Tires
KMC 17-in. XD Series "Bully" Off-Road Wheels

RPG and Wicked Image Designs Custom Roof Rack

RPG and Wicked Image Designs Custom Bumpers
Bulldog LED Lighting 40-in. LED Light Bars
Bulldog LED Lighting 2-in. LED Spikes
sPOD Electronic Control Center for Accessory Options

Kicker Audio Sound System

High Output Speakers
10-in. Subwoofer
Scosche Integrated Stereo Install Kits
Wiring and Accessories
Tintman Window Tint
Source: Hyundai