Kelleners Sport Package for BMW 3-Series F30
Kelleners Sport have been dealing with BMW's for 25 years now. Ever since the first 3-series came out, they have been providing various tuning products for it. Now, it only feels right to go ahead and work on the F30. Welcome then, to the Kelleners Sport Package for the BMW 3-Series, both diesel and petrol.
Virtually every engine in the range can undergo the Kellener's power boost. The 320d goes from 184 hp to 218 hp and from 380 Nm to 435 Nm of torque. The 328i petrol on the other hand goes from the generous 242 hp to 291 hp. The torque here goes up to 430 Nm.
Subtle elements have been glued to the exterior as well – all, a front spoiler lip, a rear skirt extension and a trunk spoiler, add a sense of character at the least. The road stance is lower by 30mm thanks to the Kelleners Sport coilover suspension system. A bit of M-ishness comes from the four-pipe exhaust system that comes fort both the petrol and the diesel.
The wheel choice ranges between 19-inch and 20-inch in size. Thoroughly light, these titanium alloys bare a "Hamburg" design and come in 9 different colors. Then there are the "Berlin" type wheels which are all matte polished gray.
By request, Kelleners will trim the interior with lots of leather, carbon and wood. All shades and types of leather as well: 60 different colors, Napa or ostrich leather. The only non-leather features that stick out are and aluminum pedals and velour floor mats.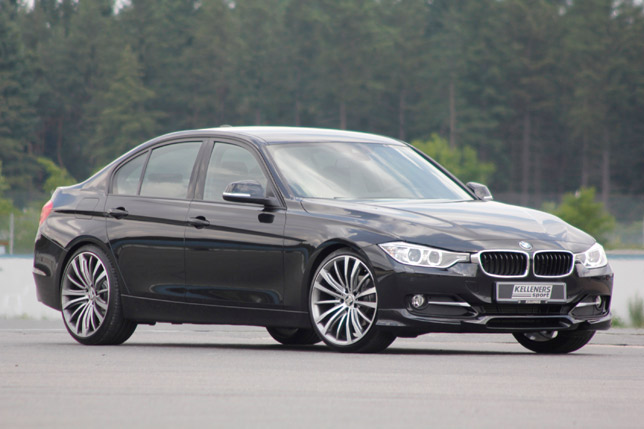 Source: Kelleners Sport