Kelleners Sport BMW M5 F10
It was not long ago when we got a word from Kelleners Sport about their work on the BMW 5 Touring F11 Series – a somewhat subtle and refined job, perfectly appropriate for the mildly sensible man. With this one though, they have gone an extra mile. It's an F10 BMW M5 and according to the figures, it's one of their most powerful products yet.
The program is called the KS5-S and it boost the M5's 4.4-liter V8 to 600 hp. That's around 40 bhp on top. Because of that, the top speed is now 330 km/h but one would not have to reach such extremes to notice the additional power. The Kelleners Sport valve-controlled stainless-steel rear silencers with four 90 mm diameter tailpipes will make sure you get the point as soon as you turn the key.
On the outside, the mirror-caps have been given a carbon fiber makeover. That is also true for the Kellener rear spoiler and diffuser. The front lip spoiler and side mouldings complete the custom aerodynamic kit.
As for the suspension, again a Kelleners Sport system has been provided which can be height adjusted but also rebound and compression configurable. Throw in two pairs of Kelleners "Hamburg" wheels 9x20 and 10x20 respectively and you get little to no space for the wheel housings.
Inside, a typical BMW-ish environment has been supplemented by black leather seats with gray stitching. On the front two head restraints there's the Kelleners Sport logo. The wheel is also new, the floor mats are from velour and the pedals are all aluminum.
The beauty if this program is that if you don't like something, rule it out. Everything is available individually.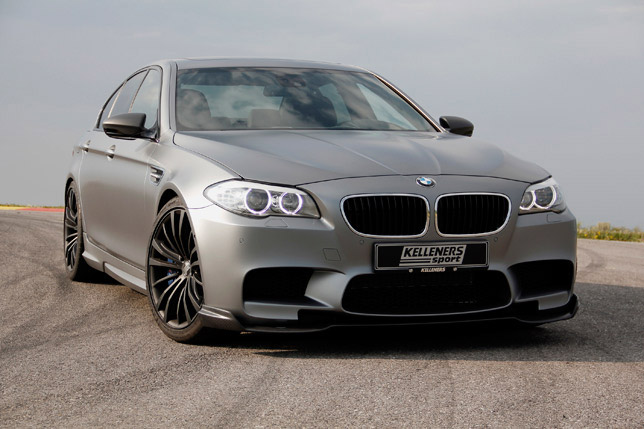 Source: Kelleners Sport