Kia is Premiering Diesel-Electric Optima T-Hybrid in Paris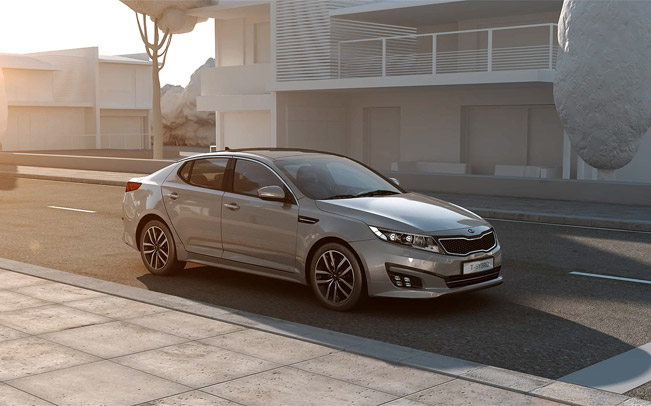 Kia Optima T-Hybrid Concept is previewing new powertrain technology ahead of future mass production. The official reveal of the car will happen just in lees than two days at the 2014 Paris Motor Show. There, Kia will also make the first application and demonstration of the brand's innovative hybrid powertrain.
T-Hybrid stands for turbo hybrid. In details, this Kia concept is driven by the model's existing 1.7-litre CRDi turbo-diesel engine, coupled with a small electric motor. The latter is powered by a 48V lead-carbon battery. Optima T-Hybrid can be driven only in electric mode at low speeds and when cruising. The deceleration here serves in terms of recharging the battery pack.
Lead-carbon batteries were chosen for the powertrain. They do not require active cooling and are easier to recycle. Of course, being a Hybrid vehicle, it includes zero-emissions stop-start system. There is also a belt-driven starter generator that replaces the conventional alternator. Vehicle's battery is smaller, thus enhancing weight distribution and handling.
The innovative electric supercharger for the CRDi engine delivers improved power and torque at all engine speeds. The electric supercharger in particular helps to boost torque and engine response at low engine speeds. Another interesting fact is that at the moment, Optima T-Hybrid's 136 hp 1.7-litre engine produces CO2 emissions of 128 g/km. These figures will change over time, due to current development of the technology.
Kia has no plans to run Optima T-Hybrid Concept as a production model at the moment. T-Hybrid powertrain is still under consideration for new Kia models in the future.
Source: Kia