2013 Koenigsegg Agera R at Geneva Motor Show
At the 2012 Geneva Auto Salon the brand Koenigsegg have launched the new 2013 Koenigsegg Agera R model, which features the industry first Aircore™ wheel technology, Triplex suspension and the astonishing 1140 horsepower output. An important highlight here is that the 2013 Agera R features the world's first hollow, one piece, super light carbon fiber wheel. It was made through the method named Aircore™ Technology, which is unique technology developed by the brand. Thank to it, the Aircore™ wheels save close to 20kg in mass, while at the same time providing great integrity and safety. In particular, the only metal part in the wheel is the tire valve; all rest is once piece hollow carbon. Secondly, the Agera and the Agera R include the first production engines in the world which use nano-surfaced cylinder sleeves, which in addition are used for reduction of friction and fuel consumption. Next, it is important to mention that the new in-house developed engine management system provides added functionality and meets all OBD II regulations.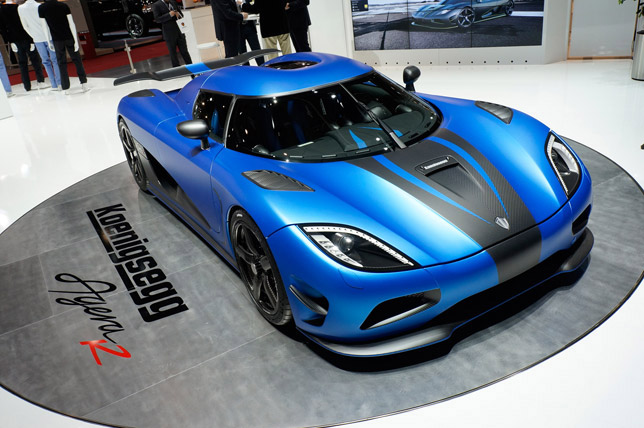 To go further into details, the rev limiter has been raised from 7250rpm to 7500rpm, which allows the power to be raised from 940 (691 kW) to 960hp (706 kW) on 98 Ron (93 din) fuel for the Agera; and from 1115 (820 kW) to 1140hp (838 kW) for the Agera R on E85. In addition, the unique Triplex suspension (which now comes as a standard on 2013 Agera R) was developed by the work of collaboration between Koenigsegg and the Swedish shock manufacturer Öhlins Racing. Furthermore, in the vehicle is also featured as a standard the one of a kind Koenigsegg Electronic Stability (KES). What is more, a new and significantly lighter rear exhaust section has been developed for the Agera R. It improves as well the performance of the rear diffuser. At last, the the new front and side winglets of the Agera R provide 20kg more downforce at 250km/h, as well as reduced drag.
Recent record achieved by 2013 Koenigsegg Agera R:
- 0-300 km/h in 14.53 sec
- 300-0 km/h in 6.66 sec
- 0-200 mph in 17.68 sec
- 200-0 mph in 7.28 sec
- A top speed of approximately 440 km/h (273 mph)
Source: Koenigsegg