Koenigsegg Agera R
Koenigsegg will reveal Agera R at the Geneva Show.
The original version of the hyper car is powered by 4.7 liter twin-turbo V8 with mind blowing 910PS (669 kW) and 1100Nm (811 lb-ft). 0 to 100 km/h in 3.1 seconds and top speed of more than 390 km/h (245+ mph).
However, Agera R has even more power from it's 5.0 liter twin-turbo V8 with 1115PS (820 kW). Yep, one thousand, hundred and fifteen horsepower and 1200Nm (885 lb-ft) of torque. Still, depending on fuel, the power can drop to 940PS (691 kW) and 1100Nm (811 lb-ft). If you want to drive at full power, you need E85 biofuel.
Agera R has special Vortex Generating Rim (VGR) wheels wrapped in Michelin tires, which are specially developed for the hyper car and can hold a speeds up to 419 km/h (260 mph).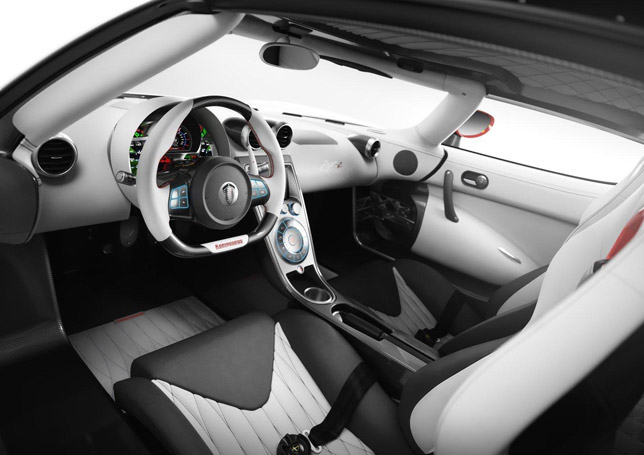 TECHNICAL DATA
Koenigsegg developed, aluminium/carbon fibre, dry sump, 32 valve, Twin Turbo, V8 engine
Torque: 1100 - 1200Nm - depending on version and fuel
Displ: 5.035 L. Bore: 90.7mm. Stroke: 95.25 mm. Compression ratio: 9.0:1. Max rpm: 7250
Power: 940-1115hp - depending on version and fuel
7-speed, dual clutch, single input shaft, AMT Transmission with E-diff.
Frontal Area: 1.873 m2
CD 0.30(no rear wing) - 0.33 (fixed normal Agera rear wing) - 0.33 to 0.37(adaptable wing)
Luggage space: 120 litres
Dry weight: 1330 kg
Curb weight 1418 kg (all fluids plus 50% fuel)
Maximum laden weight: 1600 kg(full tank, two passengers, full luggage)
Length: 4296 mm. Width: 1998 mm. Wheelbase: 2662 mm. Front Track: 1700 mm. Rear Track: 1650 mm. Front overhang: 885mm Rear overhang: 752mm Height: 1120 mm
Source: Koenigsegg