Koenigsegg Agera R specs
Koenigsegg has recently unveiled the brutal Agera R at the Geneva Show.
The hyper car is powered by a 5.0 liter twin-turbo V8 with blistering 1115PS (820 kW) at 6900RPM and the red line is a bit after that – 7250RPM. The maximum torque is 1200Nm (885 lb-ft) at 4100RPM, but over 1000Nm is available from 2700 to 6170RPM. 0 to 100 km/h in 2.9 seconds, to 200 km/h in 7.5 seconds.
A really hard discipline 0 to 200 and back to stand still is done in just 12.7 seconds. The brakes are so hard, that when you press them to the metal, you will have the feeling that your face will be taken off. The breaking distance from 100 km/h to stand still is 30.5m.
One of the most interesting about the car is the weight-to-power ratio: 1.19 kg/hp. The car has a curb weight of 1435 kg and with over a thousand horsepower, it is a real adventure to drive it.
Agera R has special Vortex Generating Rim (VGR) wheels wrapped in Michelin tires, which are specially developed for the hyper car and can hold a speeds up to 419 km/h (260 mph).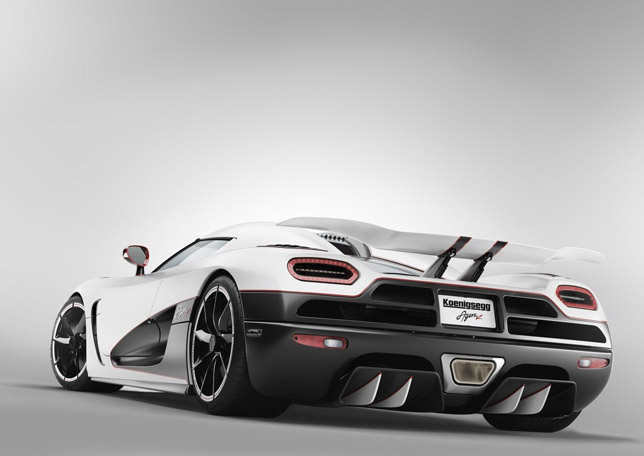 Koenigsegg Agera R Technical specifications:
Performance
Power output: 1115 hp at 6900 rpm - redline @ 7250 rpm
Torque: over 1000 Nm from 2700 to 6170 rpm
Max torque: 1200 Nm at 4100 rpm
Acceleration: 0-100 km/h (0-62 mph) 2.9 seconds
0-200 km/h 7,5 sec, 0-200-0 km/h 12.7 sec
Braking distance: 30.5m (100-0 km/h)
Lateral g-force: 1.6 g
Fuel consumption: Highway travel: 12,5 l/100km, Combined: 14,7/100km
Weight-to-power ratio: 1.19 kg/hp (dry weight)
Weight distribution: 45% front, 55% rear
Emission levels: Euro V and lev 2
Aerodynamics
Cd. 0,33 to 0,37 with adaptable rear wings.
Frontal Area: 1.873 m2
Total Downforce at 250 km/h: 300 kg
Flat underside of chassis. Venturi tunnels at rear of chassis/body.
Dimensions
Total length: 4293 mm (169")
Total width: 1996 mm (78.6")
Total height: 1120 mm (44.1")
Ground clearance: Rear: 100 mm (3.94") Front: 100 mm (3.94")
Wheelbase: 2662 mm.
Front track: 1700 mm. Rear track: 1650 mm.
Front overhang: 885mm Rear overhang: 752mm
Fuel capacity: 80 liters
Luggage compartment: 120 liters (31.7 US gallons)
Dry weight: 1330 kg
Curb weight 1435 kg (all fluids plus 50% fuel)
Maximum laden weight: 1650 kg (full tank, two passengers, full luggage)
Chassis
Carbon fiber with aluminum honeycomb and integrated fuel tanks for optimal weight distribution and safety.
Monocoque torsional rigidity: 65,000 Nm/degree.
Weight including tanks: 70 kg.
Front and rear suspension: Double wishbones, two-way adjustable VPS gas-hydraulic shock absorbers, pushrod operated.
Triplex damper in the rear.
Electronically adjustable ride height. Front: Cro-Mo subframe, with integrated crash members.
Rear: Semi-stressed engine and gearbox with support struts, for needle bearings and o-ringed wishbone bushings optimal rigidity and no engine inertia movements.
Fully machined aircraft aluminium uprights, with SKF LeMans specification 150mm angle contact ball bearings.
GKN hollow/gun-drilled driveshafts.
Koenigsegg Z-style progressive and lightweight anti-roll bars front and rear.
Engine
Koenigsegg aluminum 5,0L V8, 4 valves per cylinder, double overheadcamshafts
Compression: 9.0:1
Bore: 91.7 mm Stroke: 95.25 mm
Sequential, multipoint fuel injection.
Twin turbo superchargers
1.4 bar boost pressure.
Dry sump lubrication.
Carbon fibre intake manifold with optimised intake tracts.
Tig-welded ceramic coated inconel exhaust system manifold with merge collector.
Weight: 197 kg
Transmission
Specially developed 7-speed dual clutch, 1 input shaft transmission with paddle-shift.
Electronic differential
Steering
Rack and pinion power assisted steering. 2.7 turns lock-to-lock.
Turning circle: 11 metres. TRW electro-hydraulic power-assisted.
Brakes
Front brakes: Ventilated ceramic discs Ø 397 mm, 40 mm wide.
6-piston calipers. Power-assisted.
Rear brakes: Ventilated ceramic discs Ø 380 mm, 34 mm wide.
4-piston callipers. Power-assisted.
Traction Control
F1-style for optimal performance with 5 different handling modes.
Wheels
Koenigsegg forged Vortex generating aluminium wheels with centre locking
Front: 19" x 9.5"
Rear: 20" x 12.5"
Tyres
Dedicated Michelin Supersport
Unidirectional with asymmetric thread pattern
Front: 265/35 – 19" (Y)
Rear: 345/30 – 20" (Y)
Speed rating: 420+ km/h
Body
Two-door, two seater with removable hardtop stowable under the front hood lid. Body made from pre-impregnated carbon fibre/kevlar and lightweight sandwich reinforcements. Carbon vents over wheels.
Electrical System
Solid state digital semiconductors - no fuses or relays. Can bus operated and fully programmable functionality.
Equipment
Dual airbags, detachable storable hardtop with glass roof, power windows, adaptive rear wing, adjustable pedals and steering column, Agera stitching, adjustable seats in rake and length, carbon ceramic brakes with Sport ABS, hydraulic lifting system, power steering, power brakes, extra 4 point seatbelts for track use. satnav, Intelligent LifePo4 battery, MP3 player, USB connection, climate control, digital warning and info system, G sensor, alarm, tyre monitoring system, silver key, leather carpets, roof storage bag, car cover.
Extra Equipment
Fitted luggage, special leather and colour requests, full visible carbon body, Inconel exhaust system, Front winglets, rear view camera, heated seats, ski box roof, skis, winter wheel package, 4 point racing harnesses.
source: Koenigsegg