Land Rover Celebrates Production of First New Discovery Sport Compact SUV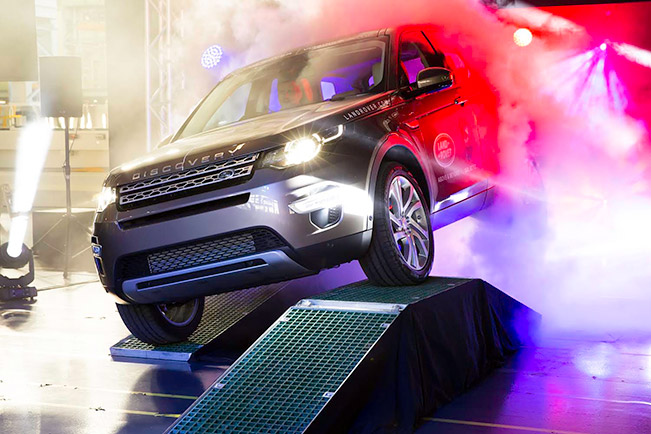 Last month (September 2, 2014) Land Rover revealed their new Discovery Sport compact SUV which is going on sale in early 2015 along with the existing seven-seat Land Rover LR4 in the US. The latter is sold as the Discovery in over 170 markets around the world. Now the first production Discovery Sport has set off Land Rover's production line in Halewood, UK. The SUV will make its way to Virgin Galactic's headquarters in order to be used by the team there while they still proceed with the preparations for the launch of the most versatile and capable premium compact SUV worldwide.
Discovery Sport is the first model of the new Discovery Family. With its bold design it sets the tone for a different and innovative generation of Land Rover. Its roomy cabin allows space for seven passengers, thus in a 5+2 configuration. It is quite larger than the previous 5-seat premium SUV models.
Nevertheless, what is interesting about the new Discovery Sport SUV is that it successfully manages to combine the two most significant characteristics of SUVs in this range – the SUV not only has a good visual conception but it also offers spatial comfort which makes it an ideal family vehicle.
As Murray Dietsch, Director of Land Rover, has stated during a ceremony at the Land Rover Halewood plant; "The new car embodies Land Rover's spirit of Above and Beyond, so it's fitting that it will be used by a similarly pioneering company in Virgin Galactic." The vehicle, then, was received by Stephen Attenborough, Commercial Director of Virgin Galactic, with whom Land Rover created a partnership earlier this year.
The 2015 Discovery Sport will definitely demonstrate a highly refined performance quality, safety and efficiency. The vehicle will debut in U.S. at the Los Angeles Auto Show the up-coming November.
Source: Land Rover