Land Rover Defender Concept 100
Another debut today at the 2012 New Delhi Auto Expo has made the Land Rover's Defender Concept 100 and Defender Concept 100 Sport. These concepts are an attempt for a possible replacement of the iconic model. Moreover they are intended to showcase the potential breath of capability for the future Defender family, capturing the rugged, dependable and adventurous spirit of the original.
Furthermore Defender Concept 100 represents the essential Defender design cues for the 21st century, but a bit modified ad optimized. Such optimizations and modifications include short overhangs for extreme approach and departure angles, vertical panels, an upright windscreen and strong shoulder line for visibility and ease of positioning and Defenders frontal image with its signature round lamps and prominent grille, incorporating a winch. Improvements have been made with the optimised off-road 20-inch alloy wheels shod with Cooper all-terrain tyres. On the other hand the Defender Concept 100 Sport takes all these key design cues and adds to them the spirit of freedom with their fold-down windscreens.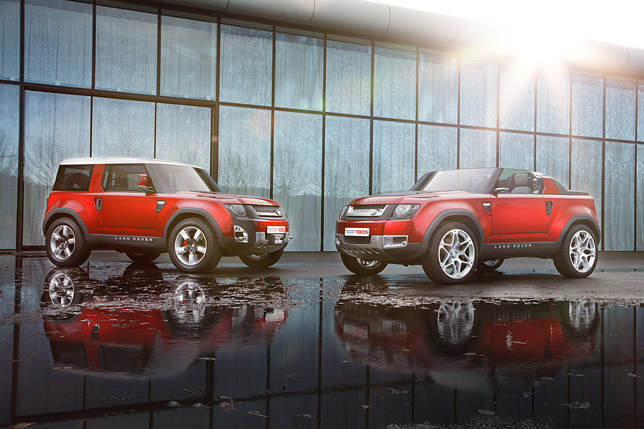 The first and foremost highlight here is the next generation of Land Rover's Terrain Response System which will optimise the car for any conditions without driver's pre-selection. Moreover a new Terrain-i System shows an intelligent map of the topography in front of the car and displays it as a 3D visualisation. It also automatically identifies potential difficulties on the road and of course suggests alternative routes. And while driving in urban environments, the same system identifies pedestrians and hazards with great accuracy. Another innovation is the new Wade Aid System which uses sonar sensors mounted in the bumpers and wing mirrors to measure water depth. Additionally Wade Aid will optimise the car for water crossings by closing body vents, raising the ride height, selecting a low gear and advising on the safest speed.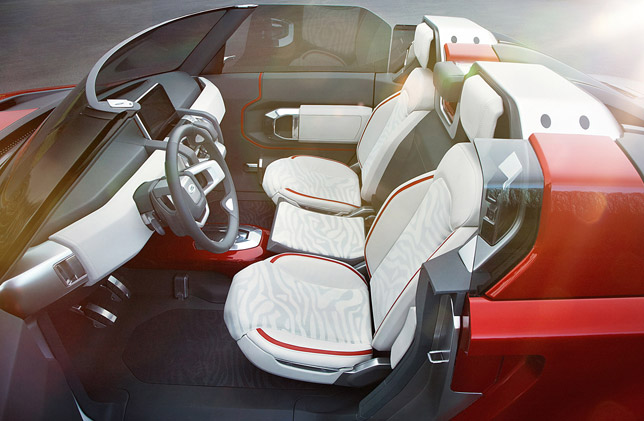 The Land Rover brand is also concerned about the environment and extends the commitment to develop new technologies which will reduce the environmental impact. First of all there is an intelligent Twin-Solenoid Stop/Start System mated to the latest eight-speed automatic gearbox, both of which have been designed with future hybridisation in mind. Secondly, there is the one-of-a-kind Driveline Disconnect System, which sends power to the front-axle only unless conditions demand all-wheel drive. Hence, this systems physically, rather than electronically, decouples the rear-axle to reduce friction losses but can reengage drive almost instantaneously.
Source: Land Rover