2013 Land Rover Electric Defender With Premiere In Geneva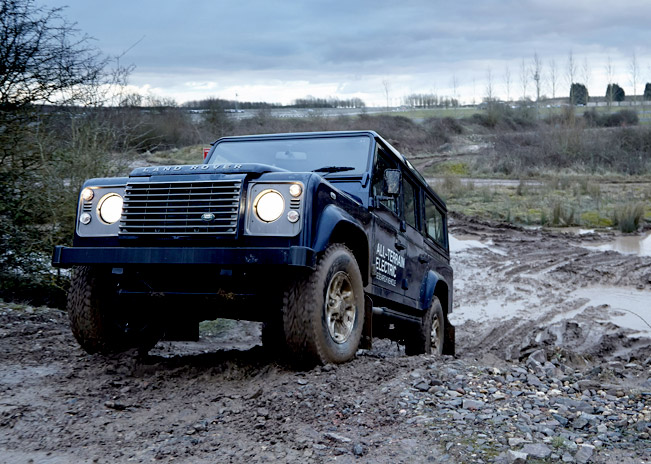 2013 Land Rover Electric Defender is going to be unveiled at the Geneva Motor Show next week. The research vehicle delivers zero emissions but at the same time keeps it's tough and go-anywhere capability.
The standard diesel engine and gearbox in the 110 Defenders have been replaced in this electric version with a 70kW (94 hp), 330 Nm electric motor twinned with a 300-volt, lithium-ion battery with a capacity of 27 kWh. The latter gives a range of more than 50 miles.
As a matter of fact, when the car is driven in low speed and off-road the battery can last for up to eight hours before recharging. In addition, it can be fully charged by a 7kW fast charger in four hours or a portable 3 kW charger in 10 hours.
Furthermore, the Electric Defender keeps the legendary four-wheel drive system and the differential lock. The electric motor delivers maximum torque from the moment it starts, therefore there's no need for gear shifting and the transmission comprises a single speed, 2.7:1 reduction gearbox combined with the existing Defender four-wheel drive system.
In addition, another technology included is the modified version of brand's Terrain Response System. Moreover, the vehicles were developed by Land Rover's Advanced Engineering Team. As a basis for their construction served the successful Defender-based EV - Leopard 1.
Of course, the vehicle has been tested in extreme and environmentally sensitive conditions. Trials included pulling a 12-tonne 'road train' up a 13 percent gradient and wading to a depth of 800 mm.
Other details disclosed around this model ahead of its debut are that the battery weighs 410 kg and is mounted in the front of the Defender in place of the diesel engine. The kerb weight is 100 kg more than a basic Defender 110 and ranges from 2055 kg to 2162 kg.
The most prominent elements in the electric powertrain – such as the battery, inverter and motor - are air-cooled which saves weight and complexity and adds robustness. In addition to this, this Electric Defender includes an optimized regenerative braking which utilizes Hill Descent Control.
Unfortunately, there are no plans for the all-terrain electric Defender to enter production so far. More details around this EV will be disclosed next week at Geneva Motor Show.
Source: Land Rover