Land Rover Reveals A Special Model For the 2015 Rugby World Cup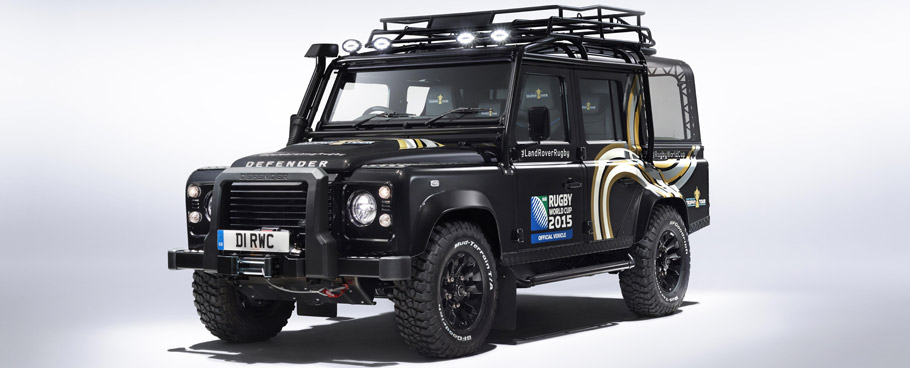 Land Rover has finally revealed the Rugby World Cup 2015 Defender, which is an especially tweaked 110 Station Wagon to transport the Webb Ellis Cup on the special 100-day Rugby World Cup Trophy Tour throughout the UK and Ireland. As you know, Land Rover is a Worldwide Partner of Rugby World Cup for this year.
The modified 110 Defender Station Wagon is built by Jaguar Land Rover's at the Oxford Road HQ  in Ryton, UK. For this year's Rugby World Cup, Defender demonstrates additional safety features, that ensure safe drive for the Webb Ellis Cup, while on the road and during the Rugby World Cup Trophy Tour.
And as it comes to a special vehicle, the team behind the project made also a special debut: the 2015 Rugby World Cup 2015 Defender was unveiled in a spectacular event at Tower Bridge in London, where it emerged from a enormous rugby ball and was driven by Land Rover Ambassador Lewis Moody himself. The titanic 8.2m ball floated additional 25 miles up the Thames River and passed by numerous iconic London landmarks as the Thames Barrier and Canary Wharf.  How cool is that?
SEE ALSO: Kahn Releases Tech Pack for the Range Rover Evoque RS Sport
There is also a special Rugby World Cup 2015 Defender App, that has been especially created to control the hi-tech gadgets inside the Trophy's cabinet. In fact, this is incredibly comfortable and cozy place: it is geared with numerous gadgets, that are directly controlled by the app itself: lightning, temperature, lock mechanism, the 40-inch TV screen. The cabinet is also protected with a special security glazing.
In fact, the interior is based on the Defender Autobiography edition and comes with high quality components and incredible design. The Black Windsor Leather seats and the special stitching really makes the  interior a really comfortable place.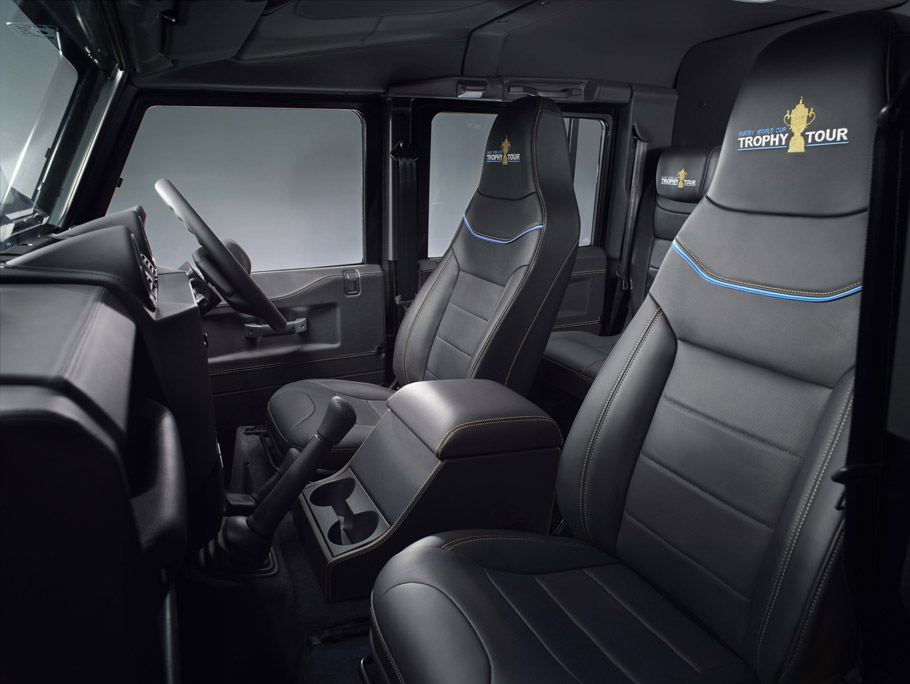 On the other hand, the vehicle comes with the proven Land Rover 2.2-liter diesel engine, paired with a six-speed manual transmission. Additional features are the front winch, the aluminum sump guard, the side and rear steps, modified rack.
The exterior demonstrates wonderful paintjob, especially made for the World Rugby Cup 2015, that includes special graphics, special spot lights, that illuminate the surroundings, special 16-inch off-road wheels and numerous more tweaks, that make the vehicle incredibly beautiful and confident-looking.
The Rugby World Cup Trophy Tour in UK and Ireland will kick off on 10 June and will culminate on 10 September at the Twickenham Stadium with a special opening ceremony.
This is really an event, that everyone should see. And if there is any reason you can't witness it by yourself, don't worry. We will grant you all the important news. Just stay with us!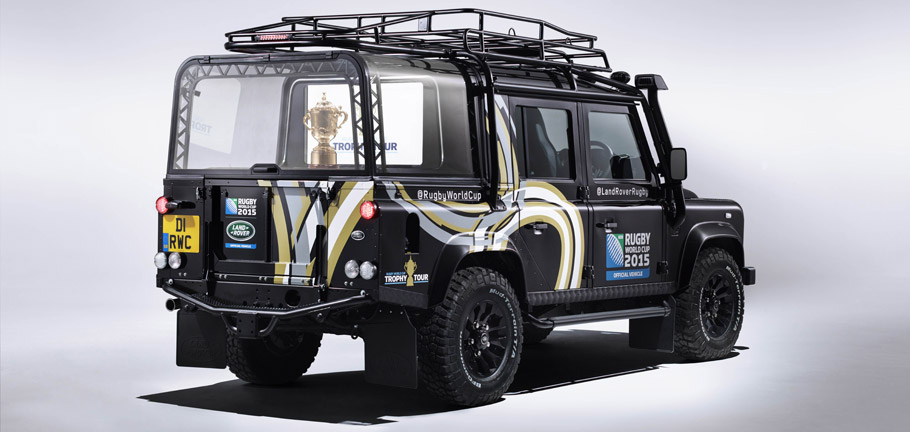 Source: Range Rover