Light Pioneer Mercedes-Benz Offers a Preview of What the Future Holds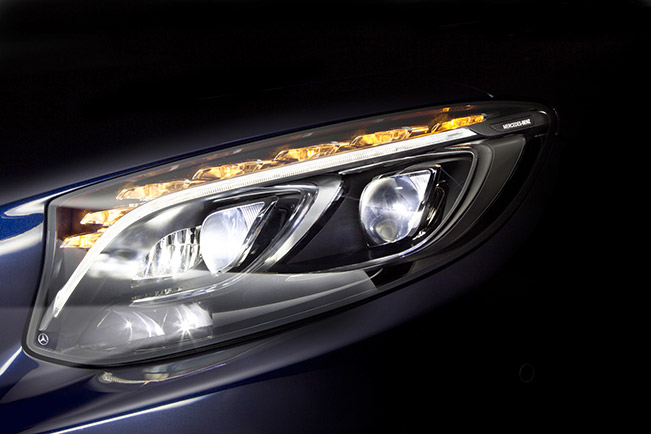 Apparently, the light pioneer Mercedes-Benz has directed its gaze towards the future. Now it has presented an upgraded vision of the 2014 MULTIBEAM LED headlamps available on the new CLS-Class. What Mercedes-Benz will soon provide is an improved light quality and greater safety at night with the 84 LEDs per headlamp.
Looking at different researches and statistics, it becomes obvious that the precision of light is of a great importance since the risk of accidents is immensely increased at night-time. There are five times as many pedestrians killed on country roads as during the daytime which is a really disturbing fact. Even though driving on country roads during the night-time is estimated at only 20 percent of total mileage, 40 percent of all fatal accidents happen during that time in particular (source: BASt, German Federal Office for Roads and Traffic).
Still, companies like Mercedes-Benz are seeking to refine the levels of safety and convenience while driving. Developing its MULTIBEAM LED technology, the automotive manufacturer actually creates almost perfect visibility and gives the driver the best possible light performance on the road. The innovative 2014 MULTIBEAM LED headlamps which are already incorporated in the CLS-Class are equipped with 24 individual high-performance LEDs. They are highly adaptable to the traffic situation and can be individually electronically controlled. This makes separate areas of the road surface illuminated in a specific way.
Yet, as it seems, this is not enough for Mercedes-Benz. Making plans for the near future, the company is pursuing further safety and comfort which will be distributed with the enhanced MULTIBEAM LED headlamps with a gridded light source containing 84 LEDs. The technology is set to enable maximum illumination of the road no matter what the speed or the traffic condition is. Of course with the careful thought of not dazzling other road users being embodied in the whole idea. The high and low-beam functions of the new flexible light system will be in digital mode only and without any mechanical actuators.
Source: Mercedes-Benz