Manhart BMW MH1 S Biturbo With 465 Horsepower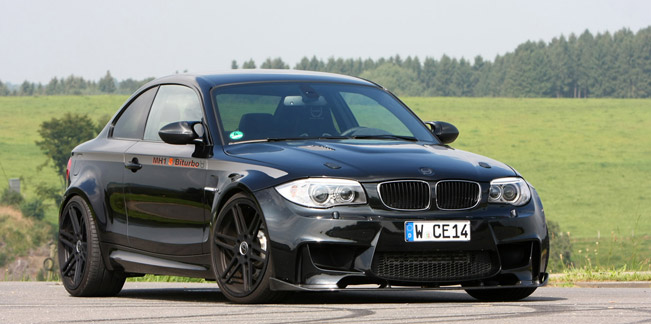 Manhart Racing latest creation is the performance conversion of a BMW 1M Coupé, known after the transformation Manhart BMW MH1 S Biturbo. Here the specialists focused on the increase of the six-piston engine's performance by biturbo charging.
What they have done at first is to optimize the factory-side motor software. In addition the have included a completely new air guide with carbon airbox and new downpipes.
Moreover, to be everything perfect and in order they have installed a large charging air cooler and a larger water cooler. The effect is an output of 465 hp (342 kW) and a maximum torque of 600 Nm (443 lb-ft). This basically means that they have added an output of 125 hp (92 kW)!
As a result the MH1 S Biturbo accelerates lighting-fast and gives absolute thrill of speed to the person behind the steering wheel. But the work didn't stop here. The Manhart technicians installed an additional KW Clubsport-chassis with special Manhart Racing alignment.
Next, the tuned BMW runs on the super-light MHR Concave One forged wheels in size 9x20 in the front and 10.5x20 inch in the back, applied with Continental Sport Contact 5P-high-performance tyres in 245/30 ZR20 and 295/25 ZR20.
Adding to the great performance conversions, Manhart Racing gave the BMW some visual improvements as well. In particular a special MHR front spoiler was added as well as MHR motor cowl, MHR trunk lid of light-weight carbon and MHR tail diffuser.
Another element in carbon fiber is the mirror caps.
The tuning was rounded off by the transformation of the interior. Here they have added a set of BMW performance seats with embroidered MHR-logo, as well as the known MHR additional display, onto which all important data, such as the maximum torque used, all motor temperatures and even acceleration values is displayed.
Source: Manhart Racing