Mazda Motorsport Takes Part in the 25 Hours of Thunderhill Race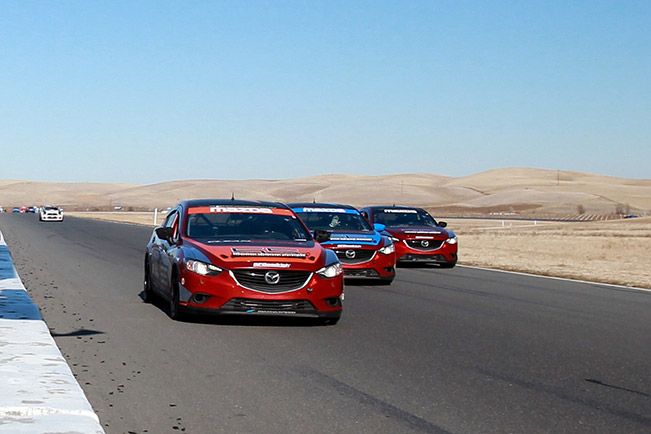 Last year, Mazda participated in the longest endurance race in America, the National Auto Sport Association (NASA)'s 25 Hours of Thunderhill Presented by Hawk Performance. Now, it is going to test its endurance and level of performance again. There will be three Mazda6s and 14 more Mazda models lining up along with 56 other cars which will be competing in six different classes.
The drivers who will be presenting the Dealers in cars 55 and 56 are Richard Fisher (The Autobarn Mazda, Evanston, IL), Joel Weinberger (Continental Motors, Naperville, IL), Taz Harvey (Dublin Mazda, Tracy Mazda, Dublin/Tracy, CA), Chris Wilson (CJ Wilson Mazda, Countryside, IL), Camden Jones (Velocity Mazda, Tyler, Tex.), Ben Robertaccio (Morrie's Mazda, Minneapolis, Minn), Jason Meise (North Park Mazda, San Antonio, Tex) and Daniel Tremblay (representing SpeedSource, the official professional racing partner of Mazda Motorsports, Sunrise, Fla.).
The Factory team will be in car 70, represented by Randy Miller (Mazda R&D), Ken Saward (Mazda Design), Mike Allen (Mazda Motorsports) and Jeremy Barnes (Mazda Public Relations and Brand Experience).
In mechanical terms, the cars remain with almost all of their stock features, with just some changes on the inside. The interiors are removed so that they can accommodate an Anthony Woodford Racing roll-cage, a Sparco Pro-ADV racing seat, Safecraft racing seatbelts and plumbed-in fire systems as well as AIM MXL Pista dashes and data acquisition. Underneath the skin there is an upgraded SKYACTIV-D diesel engine. Thanks to the cold-air intake, larger intercooler, aluminum radiator and custom tune, the Mazda6s will be able to offer some solid performance and a remarkable fuel economy, as they compete for the E1-class stage.
Source: Mazda