Mazda MX-5 Kendo Special Edition
Mazda MX-5 Kendo Special Edition will be available to buy from the beginning of March this year. The car is named after "The way of the Sword" and features stone leather interior, 17" tinted alloys and some other extras.
"Special Edition models of Mazda MX-5 have always been eagerly received by UK consumers and I'm sure the two new Kendo models will trigger a strong wave of fresh interest in our long-running star performer,", commented Mark Cameron, Sales Director, Mazda UK. 
"In Britain, the Mazda MX-5 has enjoyed 20 years of incredible popularity, with UK customers accounting for over 10 percent of global sales, while it has received a host of 'best sportscar' awards from motoring and consumer media.  The enhanced practicality of the third-generation models, has enabled the MX-5 to become much more than a 'sunny weekend' car and our Roadster Coupe now accounts for the majority of sales as buyers look to use their Mazda sportscar all-year round.", he added.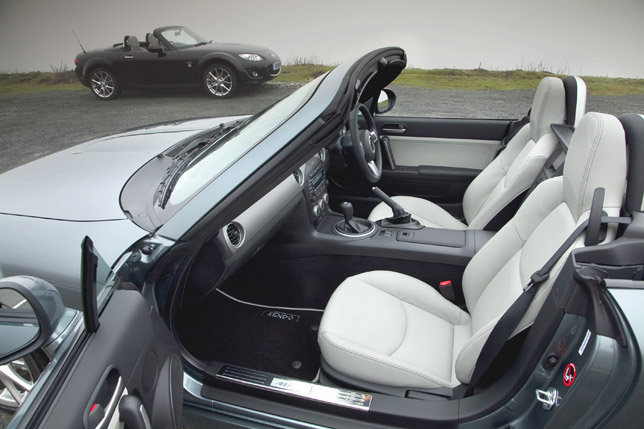 Mazda MX-5 1.8i (126 PS)Kendo soft-top is priced at £19 255 and the more powerful Mazda MX-5 2.0i (160 PS) Kendo roadster coupe has a price tag of £22 320.
MX-5 Kendo is based on the SE version and includes a unique Stone Leather interior, unique 17-inch alloy wheels, exterior badging and floor mats, plus front fog lamps, heated seats, brushed aluminium style-bar trim and aluminium pedals.
There are also – a premium BOSE audio system,  Bluetooth hands-free and cruise control. Both versions offer a choice of Sparkling Black or Dolphin Grey mica paint finish.