Mazda MX-5 Cup Practice At Road Atlanta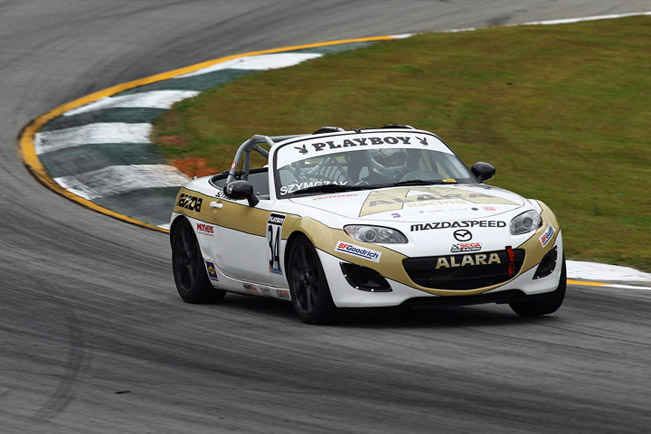 Christian Szymczak behind the wheel of Mazda MX-5 has achieved the fastest time in practice one of the preparation for Rounds 11 and 12 for the SCCA Pro Racing Playboy MX-5 Cup. At the second and third place were Sebastian Landy and Elliott Skeer, respectively.
To be more precise, Szymczak recorded a time of 1:39.650 (91.761 mph) on the 12-turn and 2.54-mile road course. The driver aims that these numbers will be enough for the qualification for the pole, given that the track was slippery.
In addition, he also disclosed that the focus was put not only in the preparation for a particular session, but also on the development of the car, thanks to which the MX-5 will get better and better.
An interesting highlight about the MX-5 is that thanks to it mazda offers available at Lifestyle to its customers extra-satisfying handling and linear responsiveness. The latest facelifted version of the vehicle debuted at the end of last year. It has more aggressive road stance and is equipped with new and innovative safety technology. The car is powered by either a 126 hp (93 kW) MZR 1.8-litre matched with a five-speed manual transmission or the 160 hp (118 kW) MZR 2.0-litre with automatic or manual six-speed transmissions.
The second quickest lap was achieved by Landy, who needed only 1:39.830 (91.595 mph) to complete it. As a matter of fact, this is driver's personal high score, when compared to those he achieved in any other official session of 2013.
He also confirmed the slipperiness of the track, but emphasized that the longer he ran, the more grip he had. The 30-minute session was ended by Skeer for a time of 1:39.854 (91.573 mph), which secured him the third place and who also have the desire to qualify for the pole.
Season's final race taking is scheduled to start today at 8:10 a.m. (EDT).
Source: Mazda