Mazda Teams up with Xbox for Forza Horizon 2 Livery Design Contest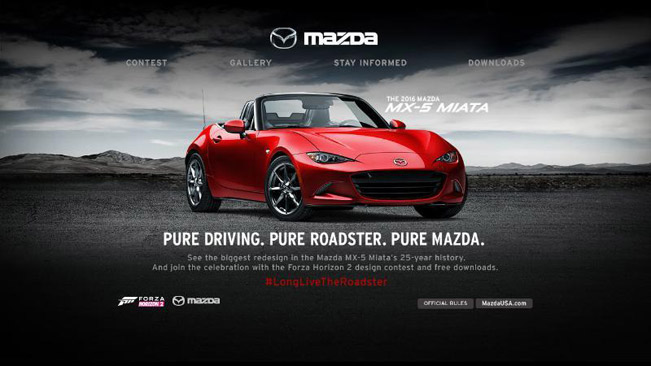 Mazda is teaming up with Xbox for the release of the 2016 MX-5. For this purpose it is launching livery design contest which is now available at Forza Horizon 2 game. The players are allowed to virtually tour the new Miata and then enter the competition. The best design will be featured in the aforementioned game and then gifted to all players. It is for the second consecutive year that Mazda North American Operations (MNAO) is teaming up with Xbox.
This time the reason is to promote the launch of the 2016 Mazda MX-5 and give Forza Horizon 2 players the chance to enter the livery design contest. Both companies have prepared an interactive experience with the car information on the design contest. This will be available through the Mazda branded hub on Xbox 360 and Xbox One.
The contest will last until 4th January, 2015. Forza Horizon 2 players will get the chance to design the livery for the 1994 Mazda MX-5 that is featured in the game. There will be two finalists, who will win a trip in March to South by Southwest 2015 for the final design showdown. The better design will walk away with a new 55-inch curved TV, audio music system, Xbox One Kinect console and one MadCatz Racing Wheel.
What is more, the winning design will be made available for free in the Forza Horizon 2 for all Xbox One and Xbox 360 users.
2016 Mazda MX-5 made an official world premiere this year. The latest edition of the best-selling two-seater roadster is the sportiest one ever created by the company. It fully embodies Mazda's KODO – Soul of Motion design theme.  Under the bonnet the car has a SKYACTIV-G petrol engine that drives the rear wheels.
Source: Mazda