Meet the First Flying Huntsman a.k.a.105 Longnose Defender

At last! The Flying Huntsman (Longnose 105) is here. We have seen the vehicle only in sketches and now we are presented the first images of the unique model. The Land Rover Defender has been elongated with an extra 400mm of bodywork, which was inserted into the elongated nose cone ahead of the windscreen. The vehicle is a combination of Kahn's sublime style and Paris-Dakar race bred performance technology. In other words it combines great visual characteristics with supreme performance.
To be more precise, the Flying Huntsman is powered by a 6.2-litre GM LS3 V8 engine, which drives a six-speed automatic gearbox operated by push-button controls. An upgraded braking and suspension system completes the engineering overhaul. The power of the engine is around 400-450 hp (294-330 kW).
On the outside, the exterior of the Huntsman is augmented with a square sectioned wide arch body kit, which features front bumper with integral LED lamps and sump guard, vented tailpipe exit mud flaps, side steps, Chelsea signature wide wings, crosshair headlamps and a rugged new grille.
The future models that will wear the Flying Huntsman badge include a 4 door variant with a correspondingly longer wheelbase, and a 6x6 model. There will be also a number of engine manufacturers to make a total of four variants of powerplants, which consist of 3.0 and 6.2 petrol models and 3.2 and 4.6 Diesel models.
B4 and B6 armoured variants or the so called extreme conversions will also be available, while the B7 variant is still under consideration. Currently, there is no confirmation of the number of units that are to be produced. Previous information points to the number 49.
The Flying Huntsman 105 Longnose is the first in an upcoming line of related retro classic models. Each of them will be based on the Land Rover Defender. The first example of the 105 Longnose will be formally unveiled at the 2015 Geneva Motor Show.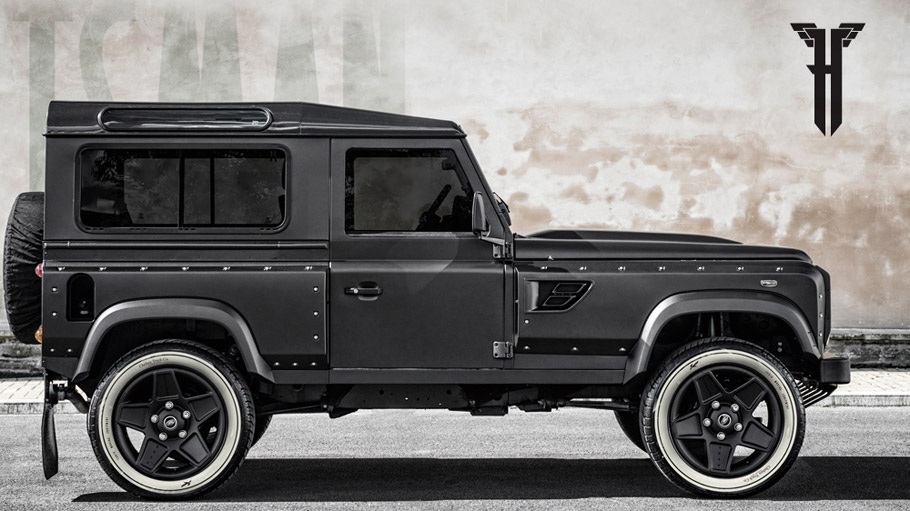 Source: A. Kahn Design