MINI United Festival - a magnet for fans
The third edition of what has already become the legendary MINI United Festival was held this year from 22 – 24 May in glorious sunshine at the Formula One track in Silverstone, England. 25,000 fans from more than 40 countries made the pilgrimage to the world's premier gathering of its kind. They arrived in over 10,000 MINI models, most of them lovingly individualised. Numerous German fan clubs made their way to the venue, mostly setting out by car on the long journey to the UK. Even for participants from as far afield as Russia, the USA and South Africa, no effort or cost was too great to ensure they could pay personal tribute to the British classic on its 50th birthday. Likewise determined not to miss out on this winning mix of racing action, music festival and lifestyle spectacular were a whole raft of celebrities.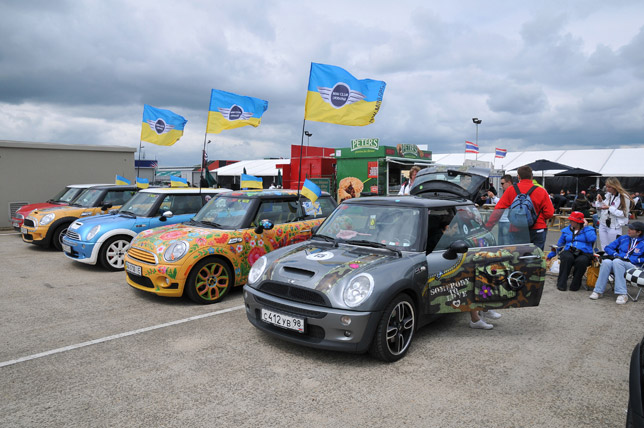 As part of the world premiere for the new Mayfair and Camden special models, the now 75-year-old Mary Quant – British style icon and inventor of the miniskirt – disclosed a long-guarded secret: the designation "mini-skirt" is not derived from the celebrated brevity of the garment; it was her much-loved car that inspired her to choose this name.
To mark the 50th anniversary, MINI also took the wraps off a reinterpretation of George Harrison's flamboyant model. This one-off, presented to Olivia Harrison on Saturday night, fully met the precise design brief of the Beatles' widow. She accepted the MINI on behalf of the Material World Charitable Foundation, a charity which George Harrison founded in 1973. The car will be auctioned this year to raise funds for the foundation. "George was a huge MINI fan and he would have enjoyed this new version. The fact that the 50th anniversary celebrations for MINI will also benefit our foundation has made it an enjoyable as well as meaningful collaboration," said Olivia Harrison.
But there were plenty more unique models to get pulses racing among the fans. British fashion designer Paul Smith again presented the model created by him, while the designs by David Bowie, Kate Moss, Missoni and the acclaimed illustrator and graphic designer Alan Aldridge were also on display. Similarly drawing approving looks were the original cars from films like "The Italian Job" and "Austin Powers".
The major highlight of the United Festival was the appearance of "modfather" Paul Weller, erstwhile frontman of the two legendary bands The Jam and The Style Council and now a longstanding and highly successful solo artist. "As I've been driving MINI all my life, I was delighted to be able to join in the 50th birthday celebrations," said Weller. As a tribute to the British artist, the band Twisted Wheel performed a cover version at the festival of one of his classic numbers, "That's Entertainment". The track will be exclusively available from the MINI website: www.mini.com.