Nissan EXTREM Concept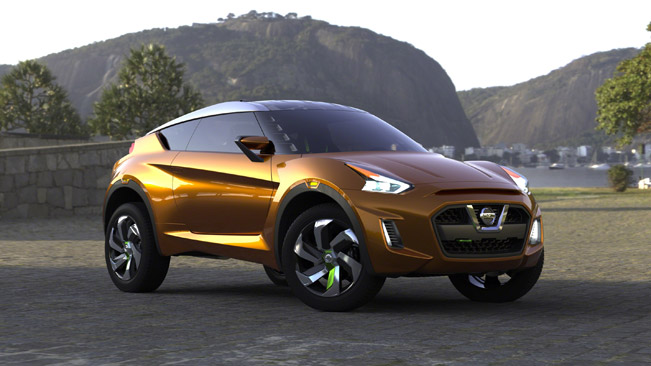 EXTREM has been created especially for Brazil. The cross-over has been designed for and built in the country and has its world debut at the 27th Sao Paulo International Motor Show.
"Brazil is a country of great natural beauty and it has a passionate, rich culture. But this is not always reflected in the cars on its streets, especially the more affordable locally produced vehicles which tend to be conservative in design, colour and specification," commented Shiro Nakamura, Senior Vice President and Chief Creative Officer.
"EXTREM, with a dynamic, high-character design, is far from conservative. It was created to appeal to the country's growing band of city-based young professionals who are passionate about design and want to make a personal statement. The lightweight two-door 2+2, has a dynamic stance, fresh surfacing, and a clear rugged ability to tackle the urban jungle everyday," he added.
EXTREM will be powered by Nissan's advanced direct injection and turbocharged (DIG-T) 1.6-litre gasoline engine, which shares its technology concept with the powertrain in the innovative Nissan DeltaWing Le Mans race car. EXTREM could also be offered with a choice of front or four-wheel drive with Torque Vectoring for enhanced handling capabilities.
The vehicle is designed by Nissan Design America (NDA) in San Diego, California, in collaboration with Brazilian designers and produced in Brazil, the concept previews a new breed of car. By blending versatility and toughness with the agility of a compact 2+2, EXTREM is a new genre of urban compact sports car.
Although strictly a concept car with no immediate plans for production, elements of EXTREM's styling offers a glimpse into future Nissan products, for Brazil and beyond.
The exclusive Solar Cortex body color, a deep metallic orange with radiant highlights, pays homage to Brazilian nature. Brightly coloured accents provide 'pops' of energy and can also be found on the gas cap, tow hook and the wheels, adding to the urban rally car theme.
The roof pattern, a mix of gloss and matte textures, is inspired by iconic Brazilian graphics.
Six-spoke 19" alloy wheels are double layered with a dark inner and brushed metal outer and provide enhanced cooling to the brakes.
Showcasing the versatility of Nissan's acclaimed V-platform – used by the Nissan March – dimensionally EXTREM is taller, wider and longer than the global city car.
EXTREM's dimensions are:
Wheelbase:      2450mm Height:             1530mm Length:            3850mm Width:              1765mm
Source: Nissan