Nissan Friend-ME Concept With Official Première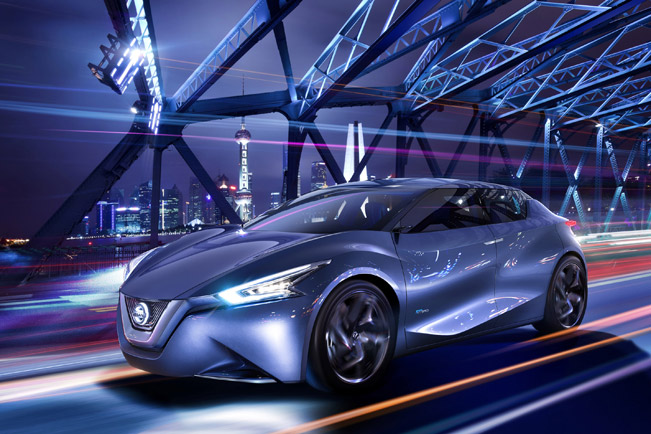 Nissan Friend-ME Concept finally made its official premiere in Shanghai offering a distinctive and very different outlook. Thanks to its assertive and imposing exterior and flowing sculpted lines, this Nissan concept vehicle delivers on-road solidity and edgy muscularity.
Nissan Friend-ME Concept has a design based on an existing Nissan sedan architecture. It includes the ecologically efficient PureDrive hybrid powertrain.
The exterior design of the Friend-ME addresses a fine balance and refined essence. The result adds an entirely new and youthful dimension to the sedan category. Furthermore, the concept offers low and wide stance with short front and rear overhangs. This eventually gives the car aggressive and sporty impression.
The design's energy flows from the V-motion shaped grille. The same energy continues streaming through the bonnet and shoulder lines while the headlamps and rear combination lamps are further highlighted by the unique boomerang-shaped lighting signature.
The profile of the Friend-Me accentuates the thin and light floating roof. In addition, the Neon Grey exterior colour was especially created to appeal to tech-savvy tastes and puts more emphasis on the lines of the car.
Inside the coupe, the front and back seats are separated with high-tech style. Everyone that is inside the car can access the same information as the driver: speed, navigation, fuel remaining.
The unique centre console stretches from the dash to between the rear seats - an iconic monolith in an onyx-black finish.
Source: Nissan