Nissan Teases New Sedan Concept With First Image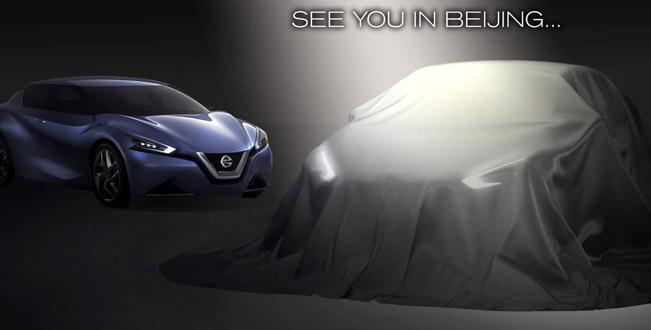 Auto China 2014 will begin on 20th of April in Beijing, where Nissan will make a debut of a new sedan concept. At the show, the visitors will also see the BladeGlider concept, making its Chinese debut, a special Teana model, celebrating its 10th anniversary in China, and many innovations, including the Autonomous Drive car. In addition, the all-new X-Trail and the new NV200 Xtronic transmission, are also expected to be presented at the show.
Last week Nissan only announced that it is going to make the world premiere of the new sedan concept vehicle. Now the brand is releasing the first teaser image of the brand new model and we are expecting more news to come in the forthcoming days ahead of the show. At Auto Shanghai 2013, the brand revealed Friend-ME concept, and from what we can see from the teaser, we can surely tell that the new sedan concept will be its evolution.
Friend-ME has provocative design and connectivity features. What was striking in it's the vehicle's interior design was the one-off centre console that stretched from the dash to between the rear seats. The new sedan concept was specifically created for the Chinese digital lifestyle and it comes to express Nissan's passion and focus in the world's most dynamic auto market.
Another debut in China will make the BladeGlider concept and if you have seen it, you can undoubtedly tell it is unique. It has one-of-a-kind center seat driver position, it is highly aerodynamic, and delivers road-hugging agility and hyper-efficiency.
Teana 10th Anniversary Special Edition model will commemorate the 10th birthday of the model being present at the Chinese market. On the other hand the X-Trail will also be shown, and will be equipped with wide range of convenient features such as large console box for gear and flexible seating, spinal support seats, Active Trace Control and 4x4i drive system, with Hill Start Assist, Advance Hill Descent Control and Yaw Moment Control.
Source: Nissan