Nissan Launches Limited Run of JUKE-R [VIDEO]
You remember the Juke-R, don't you? The one that puts to shame some of the most established brands out there on a track. Well, now you can have one...presumably. Nissan are putting it on a very limited run. In fact, they will set their production policies for it, on an on-demand manner.
The first time we saw the Nissan Juke-R was on a track in Dubai, trashing Lmaborghinis, Ferarris and alike. Nissan say, that the ensued interest was "enormous". So enormous in fact that they now have...ahem...three orders for it. In the coming four weeks, the company is ready to tackle more requests and make it's customers happy.
The one that debuted in Dubai, used various bits and pieces from the MY10 Nissan GT-R. These new ones however, are going to help themselves to the MY12 GT-R range. To put that in numbers: 3.8-liters of displacement, at least 530 hp, and 612 Nm of torque. A top speed of 315 km/h while 0 to 100 kph shouldn't take more than 3.5 seconds. Smashing.
Gareth Dunsmore, Marketing Product Manager for the Juke, said: "The Juke-R was originally intended as a one-off concept to marry two of Nissan's most innovative models. But the reaction we had to the car in Dubai was amazing - people were making offers for the original on the street!"
"With such a strong reaction, and with three genuine offers on the table, we decided we had to make the car a reality. We can't let down enthusiasts who are this keen to add to their collection of cars. The Juke-R has become something of a phenomenon and I'm enormously proud of the impact it has had. There will be more news to come on Juke later in the year."
Coincidentally, The Juke-R is also getting a sort of a promotional film. Titled Desert Nemesis, the motion picture depicts the Juke-R in all of its glory (that includes the sound). The director is the award-winning Rob Kaplan who has managed to capture all of that which makes a car enthusiast tingle (that includes the cars). Here it is: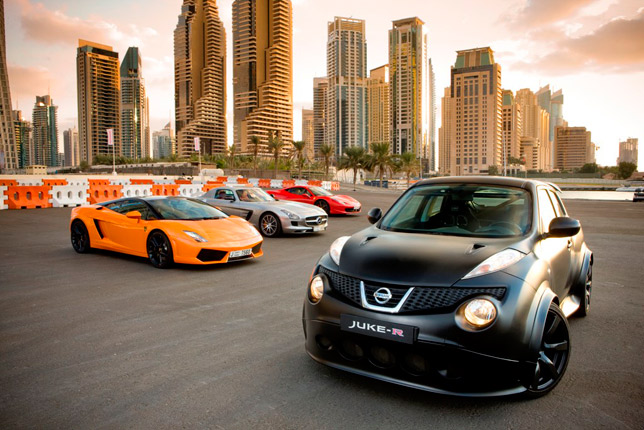 Source: Nissan