2014 Nissan Pathfinder Hybrid With Debut In New York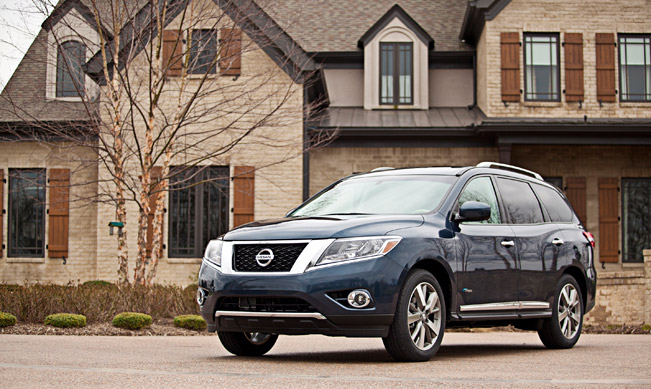 After the debut of the latest generation Nissan Pathfinder last year, now the Japanese brand is ready to enter the Hybrid version of the iconic model. 2014 Nissan Pathfinder Hybrid debuted today at a press conference at the New York International Auto Show.
Pathfinder Hybrid is the first of several upcoming Nissan hybrid models. It is expected to go on sale in late summer. To go further into details, this Nissan includes a supercharged 2.5-liter gasoline engine combined with a 15 kW electric motor and advanced Nissan Intelligent Dual Clutch hybrid control system.
The system is rated at 250 horsepower (184 kW) and 243 lb-ft (330 Nm) of torque. In addition, the utilization of Nissan Intelligent Dual Clutch System (one motor / two clutch parallel system) efficiently manages power from both the electric motor and the gas engine.
It is placed between the gasoline engine and the next-gen Xtronic CVT®, the motor also functions as a generator, conveying deceleration force from the CVT to the battery. One clutch is installed between the gasoline engine and the electric motor, the other within the CVT.
Of course being a hybrid, this Pathfinder is expected to deliver exceptional fuel economy, which is estimated at 26 mpg Combined. In fact, this is an increase of 24 percent over the standard model. Moreover, the estimated City fuel economy is 25 mpg, while Highway mileage is 27 mpg.
Next, the space-saving Li-ion battery is positioned under the 3rd row seat. A regenerative braking system operates in such way that it recharges the battery by converting the vehicle's kinetic energy that would be otherwise lost in braking.
In terms of exterior appearance, the Hybrid includes efficient LED taillights and Nissan PUREDRIVE® Hybrid badges At last, a special hybrid information screens are added to the instrument panel's Advanced Drive-Assist™ Display.
Source: Nissan