2014 Nissan Pulsar C-Segment Vehicle Revealed [VIDEO]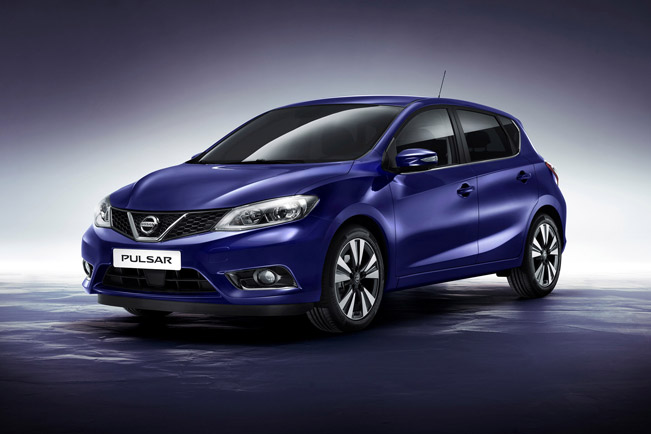 2014 Nissan Pulsar has been exclusively revealed yesterday. Car's design has been inspired by this of the Qashqai, X-Trail and Note. The new Pulsar combines bold design, technical innovations and interior space, thus delivering new dimension to the C-segment. The model is packed with a range of accessible and practical technologies, efficient and powerful drivetrains and offers large cabin space as well as energetic and athletic styling.
Nissan's advanced Safety Shield has been added to the Pulsar. It comprises of a suite of systems and technologies that deliver a 'safety net' for drivers. Among theses systems are Forward Emergency Braking, Moving Object Detection, Lane Departure Warning and Blind Spot Warning.
The second-generation NissanConnect system is also featured in the equipment of the car. This system comes with a full smartphone integration, Google Send-to-Car and access to a wide variety of useful and informative apps. On the other hand, the LED headlamps produce a crisp, white light and have the added advantage of using 50 per cent less power than conventional bulbs.
Furthermore, Pulsar also delivers the perfect combination of performance and efficiency. The 1.2-litre DIG-T petrol unit generates an output of 115 hp (85 kW), while the 1.5-litre dCi generates 110 hp (80 kW) and 260 Nm (192 lb-ft) of torque. There is also an even more powerful 190 hp (140 kW) 1.6-litre turbocharged petrol unit.
These engines not only offer exceptional performance but are also low on emissions and have CO2 outputs below 95 g/km. As an option, the 2014 Pulsar can bee equipped with the advanced XTronic automatic transmission.
Inside, the passengers will enjoy enough space and ambient atmosphere. The confident and premium approach is continued inside. The designers have used high quality materials to realize their clear design vision, but also have integrated in the Pulsar's unusually high equipment levels.
Video Source: YouTube
Source: Nissan