Nissan Pulsar Nismo RS Variant Previewed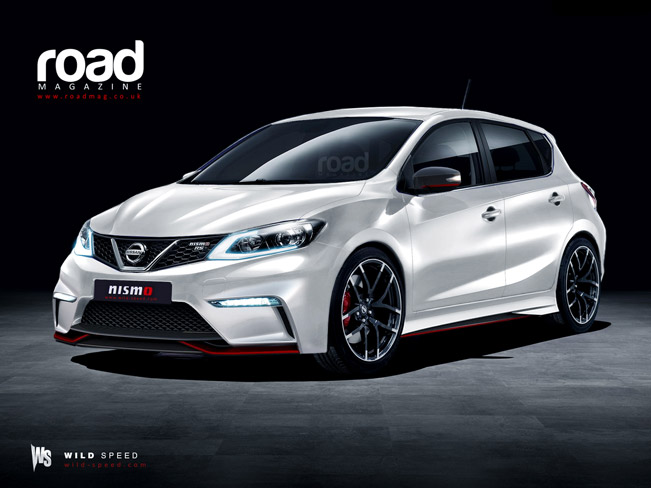 2014 Nissan Pulsar was revealed last month. The C-segment vehicle sports a design which has been inspired by this of the Qashqai, X-Trail and Note. It was basically created to redefine what cars in its design look like – inside and out. The model is packed with a range of accessible and practical technologies, offers large cabin space as well as energetic and athletic styling. Today we found information at roadmag.co.uk (link featured below) that Nissan is planning for the Pulsar to have a Nismo RS version. On the site was also published an image of the future vehicle.
As we can see from the picture, the vehicle has the typical for Nismo line design characteristics: white exterior paint finish, red accents and sportier on road presence. It has a V-shaped grille surrounding the badge, headlights angled and virtually identical to those of Qashqai, as well as LED headlights and new engines.
The entry level Pulsar hatch can be powered by the 1.2-litre DIG-T petrol unit, which generates an output of 115 hp (85 kW), or the 1.5-litre dCi that produces 110 hp (80 kW) and 260 Nm (192 lb-ft) of torque. There is also an even more powerful 190 hp (140 kW) 1.6-litre turbocharged petrol unit.
If there is a Nismo version, then we definit4ely expect to see at least a boost to the latter engine, or in other words – more than 190 horsepower! Rumors are saying that we should expect an output around 200 hp. In addition, the Nismo RS will also feature a mechanical limited-slip differential on the front axle. But till then we have to wait for Nissan's official confirmation.