Nissan ships first all-electric taxis to Barcelona and Madrid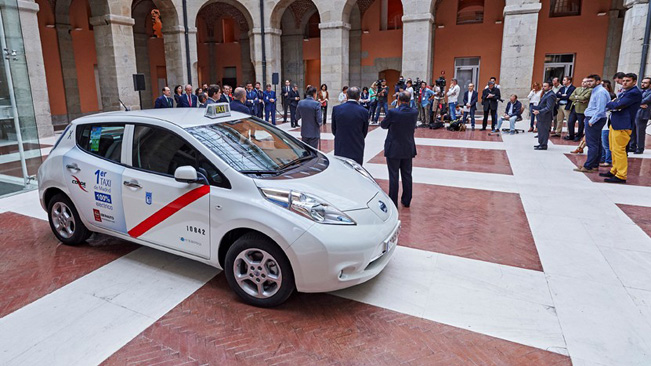 The Japanese auto maker Nissan has delivered the first all-electric taxis to the Spanish cities of Madrid and Barcelona. The introduction of the new Nissan electric vehicles means that these two cities will enjoy emission-free and quiet transportation from now on.
The vehicles delivered to Barcelona are e-NV200 units and they are the first step in the execution of an agreement between Nissan, the city of Barcelona and the Barcelona metropolitan area. An interesting fact is that the Nissan e-NV200 van is built in Barcelona as well. The delivery of the first electric taxis to Barcelona has taken place at the Expo-electric Formula-e event, which is one of the most important meetings on sustainable mobility in Europe.
Jean-Pierre Diernaz, Director of Electric Vehicles for Nissan Europe, welcomed the news, commenting: "Declining air quality levels are a top concern across Europe and it's great to see Madrid and Barcelona taking such positive steps in improving air quality through the incorporation of Nissan's all-electric cars into their taxi fleets. These taxi bring a huge benefit not only for residents but also for the drivers - thanks to the ultra-low running costs only an electric car can offer. This scheme demonstrates that sustainable transportation is easy and affordable for everyone."
Madrid has received its first Nissan LEAF taxi, which is the best selling electric vehicle in the world with more than 142 000 units sold globally. The official delivery has taken place at Puerta del Sol in Madrid, where "Zero KM" - the measuring starting point of all Spanish roads - is located. Antonio Berzal Prieto, the first 100% electric taxi driver in Madrid to choose electric technology for his business, declared "When I heard that the Nissan LEAF had been approved as a taxi for the city, I quickly looked into all the options it offered me. In addition to the environmental benefits, the costs of ownership are highly competitive and the car's performance is excellent."
Source: Nissan