Nissan TeRRA SUV Concept debuts in Paris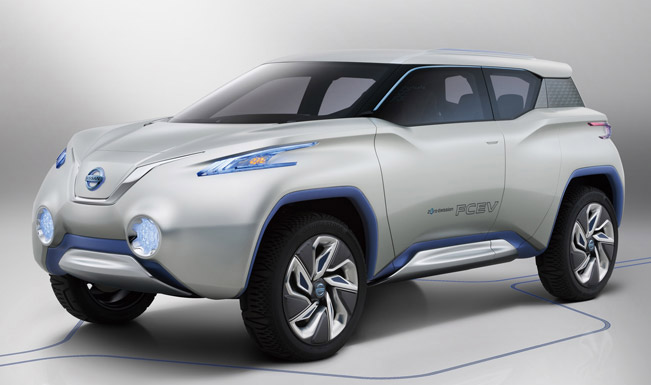 Nissan TeRRA SUV Concept is going to be unveiled the Paris Motor Show in the end of this month. The new concept vehicle is going to show the visitors that it is a perfect combination of an SUV and EV.
In addition it has an innovative 4x4 fuel-cell electric powertrain and an athletic exterior. This Nissan is designed as a functional and flexible choice in order to bring eco-friendliness along with a secure driving feel under any road conditions.
The new SUV comes in pack with big tyres, high belt-line, thick pillars and thin side windows. However, it also retains the slender waist and a sculptured bonnet of brands popular design philosophy.
For example, the sharp corners, short overhangs and sculptured lamps lead to a clean and confident presence. An aerodynamically flat body pan in addition is what grabs the attention immediately.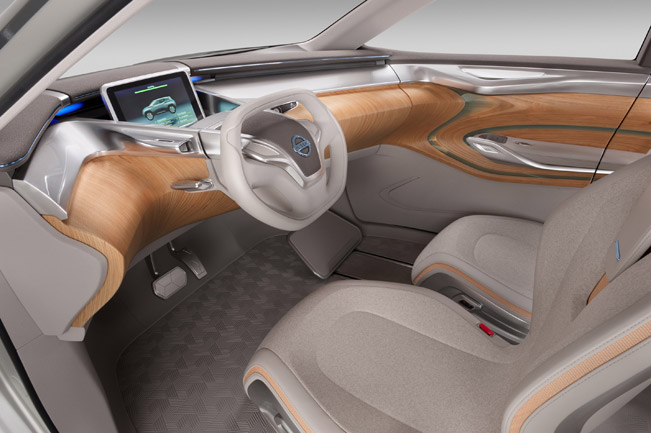 Nevertheless, the tough exterior isn't continued as a theme in the interior. The door panel is a sculpted fusion of blond wood trim and colored acrylic, layered in an intriguing pattern.
At shoulder height one can see a metal frame. The wood-metal contrast continues across the dashboard, a beechwood-acrylic fusion that exudes soft warmth.
One of the most eye-catching features in this concept is the unique instrument cluster, which consists of electronic tablet. The latter is utilized as an "intelligent key", which the driver docks when entering the car and removes it when leaving.
TeRRA's driver seat is positioned almost in the centre in a unique diagonal layout. This positions the rear passengers over the shoulders of those in front, rather than directly behind.
A hexagonal motif can be seen carried through various aspects of the inteiror design. Another impressive innovation here is that when the passenger seats are folded down, the boot floor is completely flat, presenting no obstacles to carrying bikes, kayaks.
The TeRRA also is envisioned with another unique feature - a 4x4 fuel cell electric powertrain. The front wheels are powered by an electric propulsion system currently featured in the Nissan LEAF.
In each back wheel on the other hand, is an in-wheel electric motor, based on the working prototypes featured in three successive PIVO concepts. Given that no drive shafts are required to power the rear wheels, there is no hump in the floor or on the underbody.
More importantly, the concept SUV is powered by Nissan's hydrogen fuel cell stack: a flat, highly compact unit that includes world-leading power density of 2.5kW/L. And although a purely concept car, we are definitely excited to see it as a mass-production vehicle!
Source: Nissan