Peugeot 208 HYbrid Air 2L Demonstrator Achieves 141 mpg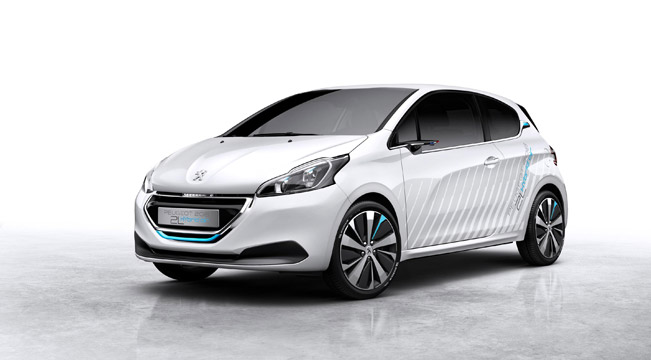 Peugeot 208 HYbrid Air 2L Demonstrator is a vehicle capable of achieving the impressive fuel economy of 141 mpg. In addition, it also has the lowest CO2 emissions on the average, measured at just 111.2g/km. This special car will be debuting at next month's Paris Motor Show.  The 2L in its name stands for two litres per 100km. This Peugeot is based on the 208 1.2-litre PureTech 5-seater Hatchback, but obviously promises to go step further.
In order to achieve this high fuel economy, the company has utilized technologies previously reserved for competition and luxury models. First of all, the car weighs only 860 kg – this is 100 kg less than the production car. This reduction is a result of the mix of steel, aluminium and composites.
What is more, carbon composites are used for the body panels, sides, doors and roof, which also contributes towards the weight savings. The new coil springs improve the suspension. In terms of aerodynamics, the car has been also finely tuned. Many improvements were made resulting in reduced drag and of course lower stance on the road.
Some of the existing parts were redesigned. For instance, the thickness of the stainless steel exhaust system was changed, enabling a 20% improvement on this part alone. The standard powertrain has been replaced by a hybrid drive system. It includes a mix of petrol and compressed air.
In addition, the HYbrid Air technology features two types of energy to achieve perfect efficiency. Compressed air is utilized to assist and even replace the petrol engine to enable maximum efficiency during transition phases. Precisely, this system comprises of a compressed-air tank located below the boot, low-pressure tank near the rear axle acting as an expansion chamber and a hydraulic system consisting of a motor and a pump in the engine bay.
Moreover, since the hydraulic system is made of two different energy sources, bespoke epicyclic transmission delivers the best balance between them. This also allows for the utilization of automatic transmission.
In Air (ZEV) mode, the car runs on compressed air alone. This means that running under this mode, the vehicle do not consume fuel or emits any CO2. In Petrol mode, the car is driven only by the 1.2-litre petrol engine, which is suitable for travelling at a steady speed on main roads and motorways. At last, the Combined mode is designed for transition phases in urban environments, such as standing starts and acceleration, because it draws on the two energy sources in proportions adjusted to achieve maximum fuel consumption.
Source: Peugeot