Peugeot Teases 208 GTi 30th Anniversary Limited Edition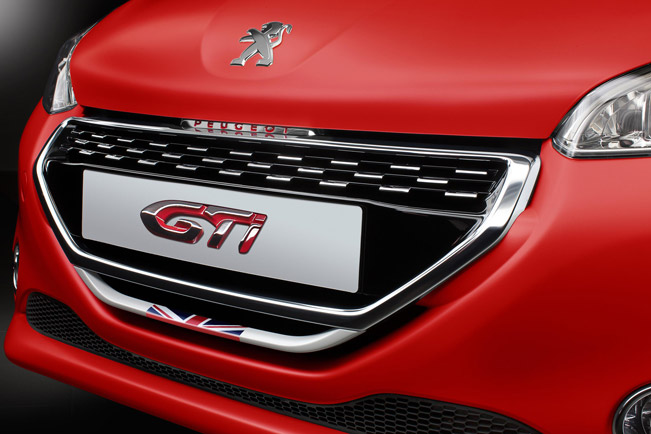 2014 Peugeot 208 GTi 30th Anniversary Limited Edition comes to commemorate the celebration of 30 years of brand's GTi. It has just been teased and will be officially premiered at the Goodwood Festival of Speed, so we have to wait a little longer to receive more details around it. The car will debut in the Supercar & 'First Glimpse' class, and will also make dynamic demonstrations. Except for the released image we weren't informed of anything else.
It is visible though, that the car is carries the typical 208 front-end and is painted in aggressive red color scheme. At the bottom of the grille we also see UK's flag, which probably signifies the place of premiere.
If we go even deeper, we shall find similarities with the front of the latest 2014 Peugeot 208 Style edition that was introduced last month. It has the same head- and fog-lights and it is also red. While 208 Style is based on the Active trim level and is offered in three- or five-door variant, we suppose that the GTi will be a three-door only.
Going back in time, Peugeot GTi was first introduced with the iconic 205 GTi back in 1984. Since then the GTi badge has been proudly featured on performance versions of the company's products. 2014 is also a memorable year for Peugeot because of another reason: the French brand marks a 125-year anniversary of automotive development.
The evolution of the company initiated in 1810 from a business in the development of cutting tools and mills, kitchen utensils and other. Then it progressed to the production of cycles, scooters, motorcycles and at last - motor vehicles. Stay tuned for more information ahead of official premiere of the anniversary edition GTi vehicle!
Source: Peugeot