2014 Porsche Panamera 4S Executive and Panamera Turbo Executive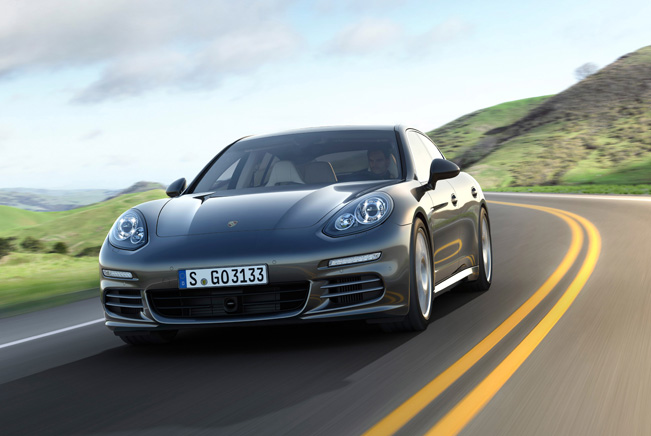 Porsche is expanding the Panamera range with two new Executive models. We are speaking here about the Porsche Panamera 4S Executive and Panamera Turbo Executive models, which now come with an extended wheelbase by 5.9 inches. This means that they will deliver more comfort and in addition they will come with an extensive range of standard features.
An instance is the Adaptive air-suspension system, which includes Porsche Active Suspension Management (PASM). The latter combines superior performance and enhanced ride comfort. Although the powerplant featured here is smaller - the new twin-turbo V6 engine, there is evident a significant increase in performance and efficiency.
In particular, in the new Panamera, the unit with twin turbochargers replaces the naturally aspirated 4.8-liter V8 engine in the previous-generation Panamera S and Panamera 4S. The engine's figures show increases of 20 hp and 15 lb-ft torque when compared to the outgoing V8 engine.
To go even further into details this increase results in a maximum 520 Nm (384 lb-ft) torque.
In addition, the models will be equipped with seven-speed Porsche Doppelkupplungsgetriebe (PDK) transmission which operates with other vehicle systems to enhance fuel economy.
Such other system for example are the Auto Start Stop feature which now turns the engine off earlier while coasting to a stop. Another interesting function is the "coasting" one in which the clutches open in overrun allowing the engine to idle and the vehicle to coast.
At first sight it is visible that the exterior design includes some significant changes. The models now come with tighter and more prominent lines up front, while at the same time there are also present larger air intakes and transition to the headlights.
One of the highlights here is the new trunk lid. Its laterally stretched glass accentuates the Porsche's width thus contributing to a more aggressive stance. In addition, the rear body proportions were also changed. A larger automatically deploying spoiler and a tighter transition to the rear lights complement the treatment at the front of the vehicle.
Optionally, the customers of the 2014 Panamera, can choose to equip it with full-LED headlights, which will undoubtedly lend the new generation a striking appearance. 2014 Porsche Panamera Turbo S and Panamera Turbo S Executive variants will be available in 2014.
Pricing For the 2014 Panamera Range:
| | |
| --- | --- |
| Panamera | $78,100 |
| Panamera 4 | $82,800 |
| Panamera S | $93,200 |
| Panamera 4S | $98,300 |
| Panamera S E-Hybrid | $99,000 |
| Panamera GTS | $113,400 |
| Panamera 4S Executive | $125,600 |
| Panamera Turbo | $141,300 |
| Panamera Turbo Executive | $161,100 |
Source: Porsche