Be the first to see the 2017 Porsche Panamera as first images leak online
2017 Porsche Panamera pictures leak ahead of official debut next week
The Internet is a source of all things good and bad. In this case, the first leaked images of the new 2017 Porsche Panamera are the worst thing that could happen for the company and the best for the car enthusiasts. Thanks to this, you can meet the model a week earlier. The 2017 Panamera is about to make official debut in Germany next week. Porsche must be very upset right now.
Let's talk about what we see. The pictures here give us not only hint of the new model, but rather an extensive look: they show the exterior and interior as well as the engine. And the latter is probably what's going to make the 2017 Panamera "the fastest luxury sedan on Earth."
SEE ALSO: A rather special Porsche 911 model is heading to Goodwood festival 
The image of the engine (the last in the gallery below) shows a turbocharged 4.0-liter V8. However, we don't have any information about its output, but given the fact that the car will have significantly lighter body; this would undoubtedly lead to an increased performance.
In terms of exterior, there is nothing dramatically changed. The basic attractive form and shape of the Panamera has been kept. At the front we see LEDs while the rear suggests slightly reworked trunk lid, new diffuser and exhaust tailpipes at each corner.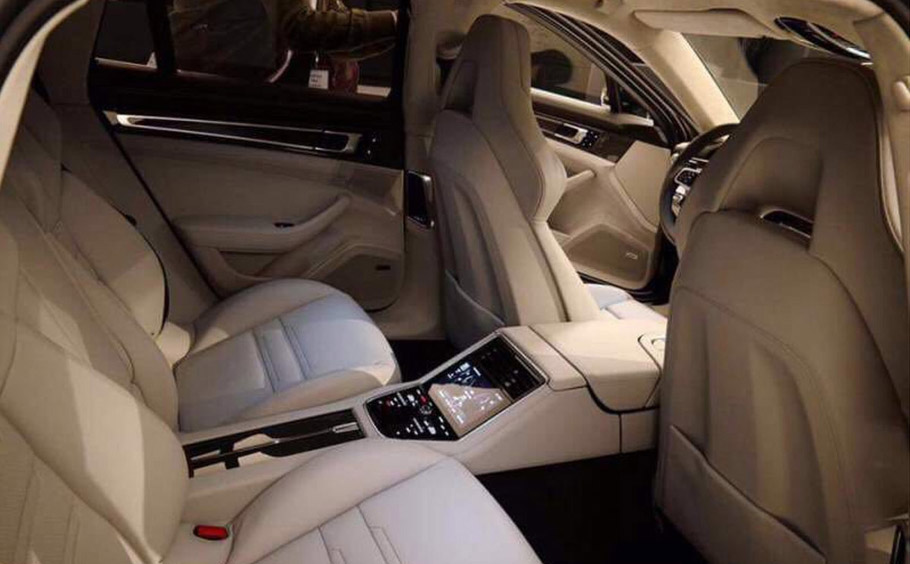 On the inside, the leaked image shows luxurious cabin with sport seats up front. The materials used seem to be of the highest quality and everything has been kept classy and stylish. There is also a high-tech entertainment system for the occupants at the back, featuring a large LCD infotainment screen.
Enjoy the first images of the 2017 Porsche Panamera in our gallery below. More details to be revealed (officially) on June 28. Stay tuned!
Source: Motor1